Cobra Kai Season 4 - The Loop
Play Sound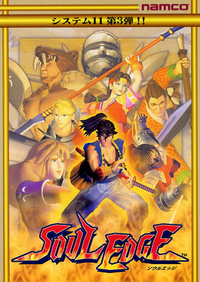 Soul Edge is a fighting game developed by the team Project Soul and published by Namco as the first installment in the Soul series of 3D fighting games. Originally released as an arcade game in December 1995, an upgraded and expanded version of the game was ported to the PlayStation in December 1996. The PlayStation version was renamed Soul Blade in North America, Europe, and Australia.
The plot centers upon the eponymous sword, shrouded in mystery and rumored to offer unlimited power to anyone who can find and wield it; nine warriors embark on a journey to pursue a tenth who is rumored to have the sword, some to claim it and others to destroy it. The game was a commercial and critical success and was followed up with Soulcalibur in July 1998.
Storyline
Soul Edge's events take place in 1583.
Soul Edge's story tells the tale of warriors searching for the ultimate sword, "Soul Edge". It has been given many names throughout the story, such as "The Sword of Salvation", "The Sword of Heroes", and "The Ultimate Sword" among others. Many strong warriors searched for years, but very few actually found it. The sword, now in the form of a twin pair of long swords, appeared mysteriously in an auction. They were taken by the dreaded Captain Cervantes. Nothing was known of his fate thereafter...
Now, nine warriors from around the world search for the sword for different reasons. Some for power, others for revenge; some believing it's a benevolent sword, searching for its support; while others knowing of its evil nature, seeking its destruction. Nothing is known for certain about the sword, except for one thing: it brings misfortune to those seeking it.
Sound Effects Used
Image Gallery
Audio Samples