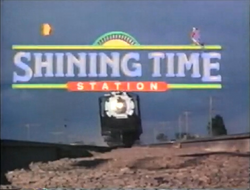 Shining Time Station is an American spin-off of Thomas & Friends.
Summary
This show is about a magical train station that is owned by the Indian Valley Railroad. The station manager is Stacy Jones. The station has a waiting room, platforms, a ticket booth, and a nickel arcade, run by Schemer. Harry Cupper was the first workshop worker in the first season. For the rest of the run, Billy Twofeathers replaced him. The station also has a mural, where Mr. Conductor, a small magical train conductor, lives inside the mural station house. He tells Thomas stories to the children. He also introduces songs to the kids in The Anything Tunnel, which is the tunnel located on the station mural. Sometimes, he may present a magic bubble to the kids that has the song inside as a way of introducing it. On occasion, the kids may look through a film viewer to see the song or film. Either way, the song is played to old cartoons, stop-motion films, or live-action films. The show also features The Jukebox Band, which is a Flexitoon and Marionette puppet band that plays song inside the station's jukebox. 
Also See
Theme Song Intro
Sound Effects Used
The Main Scenes
Thomas Stories
Image Gallery
Audio Samples
Community content is available under
CC-BY-SA
unless otherwise noted.