House of the Dragon Trailer - The Loop
Play Sound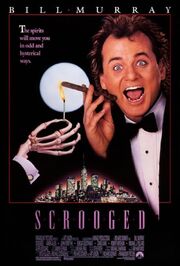 Scrooged is a 1988 American Christmas comedy film directed by Richard Donner and written by Mitch Glazer and Michael O'Donoghue. Based on the 1843 novella A Christmas Carol by Charles Dickens, Scrooged is a modern retelling that follows Bill Murray as Frank Cross, a cynical and selfish television executive, who is visited by a succession of ghosts on Christmas Eve intent on helping him regain his Christmas spirit. The film also stars Karen Allen, John Forsythe, Bobcat Goldthwait, Carol Kane, Robert Mitchum, Michael J. Pollard and Alfre Woodard.
Scrooged was filmed on a $32 million budget over three months in Hollywood. Murray returned to acting for the film after taking a 4-year hiatus following the success of Ghostbusters, which he found overwhelming. Murray worked with Glazer and O'Donoghue on reworking the script before agreeing to join the project. The production was tumultuous, as Murray and Donner had different visions for the film. Murray described his time on the film as "misery", while Donner called Murray "superbly creative but occasionally difficult". Along with Murray's three brothers, Brian, John, and Joel, Scrooged features numerous celebrity cameos.
The film's marketing capitalized on Murray's Ghostbusters role, referencing his encounters with ghosts in both films. Scrooged was released on November 23, and earned $60.3 million during its theatrical run in the United States, making it the 13th-highest-grossing film of 1988 and a moderate box-office hit. The film received a positive response from test audiences but was met with a mixed response on its release, by critics who found the film too mean spirited, or too sentimental. It was nominated for an Academy Award for Best Makeup and Hairstyling, but lost to Beetlejuice.
In the years since its release, Scrooged has become a regular television Christmastime feature, with some critics calling it an alternative to traditional Christmas films, and others arguing that Scrooged was ahead of its time, making it relevant in the modern day. It has appeared on various lists of the best Christmas films.
Storyline
Also See
Movie Trailer
Sound Effects Used
Image Gallery
Audio Samples
External Links