Jurassic World: Dominion Dominates Fandom Wikis - The Loop
Play Sound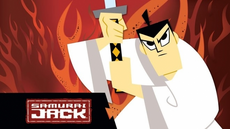 Storyline
An Asian warrior attempts to strike down Aku, an evil demon wizard, but he is sent into the future in which Aku rules. The warrior, nicknamed "Jack", now seeks to defeat Aku, undo the destruction he wrought, and return to the past.
Also See
Samurai Jack: Battle Through Time
Theme Song Intro
"Long ago in a distant land, I, Aku, the shape-shifting master of darkness, unleashed an unspeakable evil, but a foolish samurai warrior wielding a magic sword stepped forth to oppose me. Before the final blow was struck, I tore open a portal in time and plunged him into the future, where my evil is law! Now the fool seeks to return to the past and undo the future that is Aku!"
Got to get back, back to the past Samurai Jack (Ooh, watch out!)
I'll be back, back to the past Samurai Jack (Jack Jack, Jack Jack Jack)
Got to get back, back to the past Samurai Jack (Ooh, watch out!)
I'll be back, back to the past Samurai Jack (Jack, Jack Jack Jack)
Got to get back (Jack, Jack Jack Jack) (Ooh, wa-watch out!)
I'll be back (Jack Jack Jack) Samurai Jack (Jack Jack / wa-watch out! Jack Jack)
Sound Effects Used
Anime Swish Sound 46 (Heard once in EPISODE XCIX.)
Cartoon Splat Sound (Heard in EPISODE XCV for some creature's footsteps.)
Cartoon Woozy Sound (Heard once in EPISODE XCVII.)
Gary Rydstrom Lion Growl (Heard once in EPISODE C and EPISODE CI.)
H-B BUZZER, INDUSTRY - INDUSTRIAL BUZZER BUZZING (Heard in EPISODE CI.)
H-B SLIDE, CARTOON - SHORT SLIDE WHISTLE UP / Joel Valentine Short Slide Whistle Up (Seasons 1-4 only.)
H-B TEETH, CARTOON - TEETH CHATTER/Sound Ideas, Cartoons - Chattering Teeth Or Bones - CU - Fast Clicking Rattles (Seasons 1-4 only; high-pitched)
H-B WHINE, CARTOON - LOW SHELL SCREAMING WHINE DOWN (Heard once in EPISODE XIV and EPISODE XXV, and twice in EPISODE XXIII)
H-B ZIP, CARTOON - HIGH WHISTLE ZING OUT/Sound Ideas, ZIP, CARTOON - BIG WHISTLE ZING OUT (high-pitched; Seasons 1-4 only.)
Hishe Swoosh Sound (Used In Season 5)
Hollywoodedge, Baboon Groan Low Pitc AT054001 (Used in EPISODE XXXIII for the creature laughing.)
Hollywoodedge, Belch 7 Long Disgusti PE138601 (Heard once in EPISODE XXVII and EPISODE XCIV.)
Hollywoodedge, Bird Duck Quacks Clos PE020501 (Heard once in EPISODE XCVI.)
Hollywoodedge, Bird Rooster Two Crow PE021501 (Seasons 1-4 only.)
Hollywoodedge, Bonk Pseudo String Pl PE941201 (Used occasionally in Seasons 1-4 for takes.)
Hollywoodedge, Bounce Jews Harp CRT015806/Sound Ideas, HIT, CARTOON - FLAT BONK (Heard once in EPISODE VIII: "Jack vs. Mad Jack".)
Hollywoodedge, Cats Fighting Loud Sc PE917007/Hollywoodedge, Cats Two Angry YowlsD PE022601 (Seasons 1-4 only.)
Hollywoodedge, Crash Metal Shatter PE110201 (Heard echoing many times in a row in "EPISODE III".)
Hollywoodedge, Crash Train Car Mix PE111601 (Heard once in EPISODE XXV; twice in EPISODE C.)
Hollywoodedge, Cuckoo Clock Strikin PE179401 (Heard once in EPISODE VIII: "Jack vs. Mad Jack".)
Hollywoodedge, Donkey Snort Multipl AT043301 (Heard in EPISODE XXXIII whenever the creature cries)
Hollywoodedge, Elephant Single Clas AT043701 (Heard once in a normal pitch in EPISODE LI: "Young Jack in Africa"; twice in a high pitch and once in a higher pitch in EPISODE XXVII: "Chicken Jack".)
Hollywoodedge, Fart 9 Wet Squish Coul PE139701 (Heard few times in EPISODE XCIX for impacts)
Hollywoodedge, Funny Multi Swishes CRT054102/Sound Ideas, SWISH, CARTOON - TWIRLING SWISH, LONG (Heard once in EPISODE XXXII)
Hollywoodedge, Gooey Splat CRT052405 (Heard twice in EPISODE XCV in low volume)
Hollywoodedge, Gun Sweetened Shot SDT024701 (First half used often in Season 5.)
Hollywoodedge, Puma Cougar Roar Clas AT016801/Sound Ideas, COUGAR - GROWL, ANIMAL, MOUNTAIN LION, CAT 03/Valentino Cougar (Heard in EPISODE XXIII)
Hollywoodedge, Quick Air Release Ho CRT030102 (Heard in "Seasons of Death", segment "Fall")
Hollywoodedge, Quick Whistle Zip By CRT057505 (Heard once in EPISODE XXXIII and EPISODE XXXIX. May have been used in EPISODE IV or is confused with Sound Ideas, CARTOON, WHISTLE - LONG ZIP BY.)
Hollywoodedge, Screams 4 Man Gutwren PE134501 (Heard in "The Birth of Evil", both parts.)
Hollywoodedge, Screams 5 Man InsaneT PE134601 (Heard in "The Birth of Evil", both parts.)
Hollywoodedge, Swish 30 Single PE118901 (Heard in Episodes 94 to 101.)
Hollywoodedge, Sword Shing With Sword PE103601 (Heard In "Birth of Evil")
Hollywoodedge, Synth Gun Ricochet Mu PE205101 (Heard once in EPISODE XCIX at low volume.)
Hollywoodedge, Thunder Rip Rumble PE1008603 (Heard often near the end of EPISODE XVIII: "Jack and the Ultra-Robots" and once in EPISODE XXVII: "Chicken Jack")
Hollywoodedge, Very Wet Lip Smackin CRT026505 (Heard once in EPISODE XCIX.)
Hollywoodedge, Wet Splats Various CRT052302 (Heard once in EPISODE XCV in low volume.)
Joel Valentine Blink Sound (Heard in 2 pitches in EPISODE CI.)
Joel Valentine Castanet Sound (Seasons 1-4 only)
Joel Valentine Explosion Sound 02/Sound Ideas, Explosion Single Large 11 - Single, large explosion with fiery ending
Joel Valentine Falling Whistle Sound (Used heavily for flying, falling and other accents.)
Joel Valentine Stomach Growls (Used in EPISODE IV, EPISODE IX, EPISODE XXVI, and EPISODE XXXIII in its normal pitch. Used in a higher pitch in EPISODE LII.)
Joel Valentine Sun Shine Sound/Producers Sound Effects Library "SPACE BEAM DOWN" (normal and lower-pitched edits)
Joel Valentine Tinkling Sound (Heard once in EPISODE XV, segment 3.)
Producers Sound Effects Library "AN Cat Purr"/

Joel Valentine Cat Purring Sound

(Heard twice in EPISODE XLIV: "The Princess and the Bounty Hunters". Captions mistake this as "[SNORING]".)
Shiny Sound 2 (Including a higher-pitched version in EPISODE XV segment "The Metal-Eaters".)
Shiny Sound 3 (Heard in the Intro Seasons 1-4)
SKYWALKER, WHOOSH - INDY'S WHIP CRACKS (Heard once in EPISODE XCIII and EPISODE XCIV)

SMS Electric Goop Sound

Sound Ideas, AIRPLANE, PROP - LONG DIVE 02 (Seasons 1-4 only: Heard once in EPISODE II/"The Premiere Movie" and most often in EPISODE XLVII.)
Sound Ideas, BODYFALL - BODYFALL ON DIRT, HUMAN 01 (usually in a low pitch)
Sound Ideas, BOING, CARTOON - FLAT JEWS HARP BOING (Heard in EPISODE XXXIII.)
Sound Ideas, BOING, CARTOON - GONG BOING (Heard once in EPISODE XXXIX.)
Sound Ideas, BOING, CARTOON - RIPPLE BOING (Heard once in EPISODE XXXIII.)
Sound Ideas, BOING, CARTOON - RISING WIGGLE BOWANG (Heard multiple times in a row in EPISODE XXXIII.)
Sound Ideas, BOING, CARTOON - TROMBOING (Heard once in EPISODE XLII: "Samurai vs. Samurai")
Sound Ideas, CARTOON, AIRPLANE - PROP PLANE PASS BY FAST (Heard once in EPISODE IV and twice in EPISODE XXVI.)
Sound Ideas, CARTOON, AIRPLANE - PROP PLANE POWER DIVE SCREAM (Heard once in EPISODE XXVI.)
Sound Ideas, CARTOON, HIT - BIG ANVIL HIT (heard in XVIII, XXIII, XV/"The Metal-Eaters", XCVI, XCVII, and C.)
Sound Ideas, CARTOON, RATTLE - SHAKING BEAN IN EMPTY CAN, METAL 02 (Heard once in EPISODE XXXIII.)
Sound Ideas, CARTOON, TWANG - WOBBLING TWANG (heard once in Episode XCVII.)
Sound Ideas, CARTOON, WHISTLE - FAST ZING WHISTLE, ZIP (Heard once in EPISODE VII; many times in EPISODE IV.)
Sound Ideas, CARTOON, WHISTLE - FAST ZIP BY/Sound Ideas, CARTOON, WHISTLE - LONG ZIP BY (Heard in EPISODE IV; once in VII & XXXIX.)
Sound Ideas, CARTOON, WHISTLE - FLUTTER WHISTLE: HARD SPUTTERING (Heard once in EPISODE XIV.)
Sound Ideas, CAVERN - EERIE HOLLOW CAVE: VARIOUS ECHOEY NOISES, AMBIENCE (Heard in EPISODE XXI: "Jack and the Farting Dragon".)
Sound Ideas, ELECTRICITY, SPARK - HIGH VOLTAGE SPARK, ELECTRICAL 01/Sound Ideas, ELECTRICITY, SPARK - HIGH VOLTAGE SPARK, ELECTRICAL 01 (Heard in "Jack vs. Mad Jack", "Jack and the Labyrinth" and EPISODE CI)
Sound Ideas, ELECTRICITY, SPARK - HIGH VOLTAGE SPARK, ELECTRICAL 02 (Heard in "Jack Tales")
Sound Ideas, EXPLOSION - HAND GRENADE: DEFENSIVE HAND GRENADE EXPLOSION WITH SHRAPNEL PASSING BY 01 (Used once in EPISODE CI.)
Sound Ideas, EXPLOSION - HOWITZER EXPLOSION (Higher-quality versions of the respective explosion used.)
Sound Ideas, EXPLOSION - HOWITZER SHELL IN AND EXPLODE (Higher-quality versions of the respective explosion used.)
Sound Ideas, EXPLOSION - LARGE EXPLOSION (Higher-quality versions of the respective explosion used.)
Sound Ideas, EXPLOSION - LARGE BLAST 01 (Universal Studios) (Higher-quality versions of the respective explosion used.)
Sound Ideas, EXPLOSION - LARGE BLAST 03 (Universal Studios) (Higher-quality versions of the respective explosion used.)
Sound Ideas, EXPLOSION - LARGE EXPLOSION 03 (H-B) (Higher-quality versions of the respective explosion used.)
Sound Ideas, GUN, HAND GUN - .44 MAGNUM: SINGLE SHOT 01 (Used in EPISODE L: "Tales of X-49" for X-49's guns.)
Sound Ideas, HEAD SHAKE, CARTOON - THROAT GARBLE, SHORT (Heard once in EPISODE XXVII.)
Sound Ideas, HIT, CARTOON - ZIP AND HEAVY THUMP/Sound Ideas, THUMP, CARTOON - HEAVY THUMP (Heard twice in a very low pitch in EPISODE XVIII and many times in a high pitch in EPISODE XV)
Sound Ideas, MAGIC - MAGIC ZAP (Heard once in EPISODE XXIV: "Jack is Naked".)
Sound Ideas, MONSTER - ROAR, ANIMAL 01/King Kong Roar (Heard once in EPISODE XCIII.)
Sound Ideas, RICOCHET - RICCO AND WHINE 04 (Heard once in reverse in EPISODE XV/"The Metal-Eaters".)
Sound Ideas, RICOCHET - SLICK RICCO 01/Sound Ideas, COMEDY - RICOCHET ACCENT FOR MOVEMENT 01/Sound Ideas, GUN, RICOCHET - SINGLE RICOCHET, BULLET 01
Sound Ideas, RUN, CARTOON - TEMPLE BLOCK GALLOP, SHORT (Heard once in EPISODE VIII: "Jack vs. Mad Jack".)
Sound Ideas, SCI FI - FREEZE GUN, SHORT (Heard once in EPISODE VII.)
Sound Ideas, SCI FI - SINGING SWORD (Used in a lower pitch; 4 times in EPISODE VIII: "Jack vs. Mad Jack" in a normal pitch.)
Sound Ideas, SPLAT, CARTOON - PAINT FIGHT GLOP 01 (Seasons 1-4 only.)
Sound Ideas, SPLAT, CARTOON - PAINT FIGHT GLOP 02 (Seasons 1-4 only.)
Sound Ideas, SPLAT, CARTOON - PAINT FIGHT GLOP 05 (Seasons 1-4 only.)
Sound Ideas, SPOOGE, CARTOON - HIGH, GLOPPY SPOOGES 03 (Heard once in Jack Under the Sea".)
Sound Ideas, SQUISH, CARTOON - LITTLE SQUISH (Seasons 1-4 only.)
Sound Ideas, THUNDER - BIG THUNDER CLAP AND RUMBLE, WEATHER 04 (Heard once in EPISODE XXVII and "The Birth of Evil (Part 2)")
Sound Ideas, WEATHER, LIGHTNING - BOLT OF LIGHTNING STRIKES CLOSE BY, THUNDER 07 (Heard once in "Jack and the Ultra Robots")
Sound Ideas, WHINE, CARTOON - SHELL SCREAMING WHINE DOWN (Heard once in EPISODE IV; un a lower pitch once in EPISODE XIV and EPISODE XXV and twice in EPISODE XXIII: "Jack vs. Domingo, The Soul Collector")
Sound Ideas, WIND - SIBERIAN WIND, WEATHER (Heard in EPISODE XCIX)
Sound Ideas, ZOOM, CARTOON - BROOM TAKE OFF (Used in EPISODE XLII and XLVII.)
SpongeBob Bubble Wipe Sound (Heard in EPISODE XXI: "Jack and the Farting Dragon".)
WB CARTOON, HEAD SHAKE - TROMBONE GOBBLE (Heard once in EPISODE XXVII.)
Image Gallery
Audio Samples