Jurassic World: Dominion Dominates Fandom Wikis - The Loop
Play Sound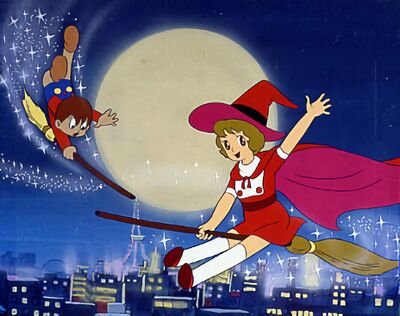 Sally the Witch (魔法使いサリー, Mahōtsukai Sarī), also known as Sunny the Witch, is one of the popular anime magical girls of what would eventually become a genre in Japan. Due to its characteristics, it may be considered the first shōjo anime as well.
Storyline
Sally is the witch princess of the Magic Kingdom who longs to visit the mortal realm, presumably to make friends her own age. One day, by mistake, Sally teleports to the "mid world" (Earth), where she uses her magic to fend off a couple of burglars menacing two schoolgirls. Immediately befriended by her new acquaintances — tomboyish Yoshiko Hanamura (known affectionately as "Yotchan") and girly Sumire Kasugano — Sally decides to stay on Earth indefinitely, leading to mischief. As with Samantha Stevens in Bewitched, Sally tries to keep her supernatural abilities secret, assuming the role of a human child.
In the final episode, Sally's grandma informs her she must return to the Magic Kingdom. Before leaving, Sally tries to tell her friends about her origins, but no one will believe her. Then her elementary school catches on fire, and Sally uses her magic to put it out. Her powers thus exposed, Sally's time to leave has finally come. She waves farewell to her friends, and returns to the Magic Kingdom.
Air Date
Season 1: December 5, 1966 – December 30, 1968
Season 2: October 9, 1989 – September 23, 1991
Also See
Sound Effects Used
Image Gallery
Audio Samples