This's a Skywalker Sound sound effect. It could be a very high-pitched, heavily processed version of Sound Ideas, CARTOON, AIRPLANE - PROP PLANE POWER DIVE SCREAM, a Warner Bros. sound effect, and also sounds similar to Hollywoodedge, Plane ASteep Dive En CRT056108.
Sound Effect Description
Stuka-like siren making a quick whooping "Whooo!" sound, recorded from a P-51 Mustang. Used to accent war airplanes passing by fast or making a very quick and steep dive.
Used in
Movies
Trailers
Atlantis: The Lost Empire (2001) (Trailers)

(Heard once in a high pitch.)
Anime
Image Gallery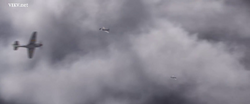 Audio Samples