Jurassic World: Dominion Dominates Fandom Wikis - The Loop
Play Sound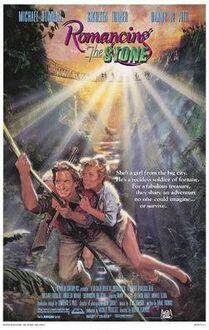 Romancing the Stone is a 1984 action-adventure romantic comedy film directed by Robert Zemeckis, written by Diane Thomas and produced by Michael Douglas who also starred in the film. The film co-stars Kathleen Turner and Danny DeVito.
Thomas wrote the screenplay in 1979, her only screenplay to be produced in her lifetime. Zemeckis, who at the time was developing Cocoon, liked Thomas' screenplay and offered to direct but 20th Century Fox initially declined, citing the commercial failure of his first two films I Wanna Hold Your Hand and Used Cars. The director would eventually be dismissed from Cocoon after an early screening of Romancing the Stone failed to further impress studio executives. Alan Silvestri, who would collaborate with Zemeckis on his later films, composed the film's score.
Romancing the Stone was released on March 30, 1984, to positive reviews from critics and earned over $115 million worldwide at the box office. It was followed by a 1985 sequel titled The Jewel of the Nile.
Storyline
Joan Wilder is a successful, but lonely, romance novelist in New York City. After finishing her latest novel, Joan leaves her apartment to meet her editor, Gloria, and is handed a letter that contains a map, sent by her recently murdered brother-in-law, Eduardo. While she is gone, a man tries to break into her apartment and is discovered by her apartment supervisor, whom he kills. Returning to her apartment, Joan finds it ransacked. She then receives a frantic phone call from her sister Elaine — Eduardo's widow. Elaine has been kidnapped by antiquities smugglers, cousins Ira and Ralph, and instructs Joan to go to coastal city of Cartagena with the map she received; it is Elaine's ransom.
Flying to Colombia, Joan is diverted from the rendezvous point by Colonel Zolo — the same man that ransacked her apartment looking for the map - by tricking her into boarding the wrong bus. Instead of heading to the coast, this bus heads deep into the interior of the country. Ralph realizes this and begins following Joan. After Joan accidentally distracts the bus driver by asking where they are going, the bus crashes into a Land Rover, wrecking both vehicles. As the rest of the passengers walk away, Joan is menaced by Zolo but is saved by the Land Rover's owner: an American exotic bird smuggler named Jack T. Colton. For getting her out of the jungle and to a telephone, Joan promises to pay Jack $375 in traveler's cheques.
Jack and Joan travel the jungle while eluding Zolo and his military police. Coming across a small village, they encounter a drug lord named Juan, who is a big fan of Joan's novels and helps them escape from Zolo.
After a night of dancing and passion in a nearby town, Jack suggests to Joan that they find the treasure themselves before handing over the map. Zolo's men enter the town, so Jack and Joan unknowingly steal Ralph's car (with a sleeping Ralph in the back) to escape. They follow the clues and retrieve the treasure: an enormous emerald called El Corazón ("The Heart"). Ralph takes the emerald from them at gunpoint, but Zolo's forces appear, distracting Ralph long enough for Jack to steal the jewel back. After being chased into a river and over a waterfall, Jack and Joan are separated on opposite sides of the raging river; Joan has the map, but Jack has the emerald. Jack directs Joan to Cartagena, promising that he will meet her there.
In Cartagena, Joan meets with Ira, who releases Elaine for the map. Zolo and his men arrive with a captured Jack and severely-beaten Ralph, interrupting the exchange. As Zolo tortures Joan, Jack surrenders the emerald to Zolo, but a crocodile bites off Zolo's hand and swallows it along with the emerald. A shootout ensues between Zolo's soldiers and Ira's gang. Joan and Elaine dash for safety, pursued by Zolo, as Jack tries to stop the crocodile from escaping; he begrudgingly lets it go to try and save Joan. A crazed Zolo charges at Joan; she dodges his wild knife slashes and he falls into the crocodile pit. As the authorities arrive, Ira and his men escape, but Ralph is left behind. After a kiss, Jack dives into the water after the crocodile, leaving Joan behind with her sister.
Later, Joan is back in New York City, and wrote a new manuscript based on her adventure. Gloria is moved to tears by the story and tells Joan she has another best-seller on her hands. Returning home, she finds Jack waiting for her in a sailboat named the Angelina, after the heroine of Joan's novels, and wearing boots made from the crocodile's skin. He explains the crocodile died from ingesting the emerald and he had sold it, using the money to buy the boat of his dreams. They go off together, planning to sail around the world.
Also See
Sound Effects Used
Image Gallery
Audio Samples
External Links