She-Hulk Trailer Dropped - The Loop
Play Sound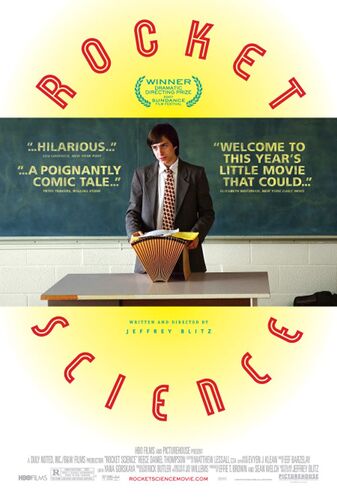 Rocket Science is a 2007 American comedy-drama film written and directed by Jeffrey Blitz and starring Reece Thompson, Anna Kendrick, Nicholas D'Agosto, Vincent Piazza, and Aaron Yoo. It tells the story of Hal Hefner, a fifteen-year-old stutterer who decides to join his school's debate team when he develops a crush on its star member, and addresses the themes of coming of age, sexuality, and finding one's voice.
Blitz conceived a rough storyline for the film while making Spellbound, a documentary about 1999's Scripps National Spelling Bee, but an HBO Films executive persuaded him to write the film based on his own adolescence when he told her about his experiences as a stutterer. The film's producers visited several cities in the United States and Canada; Thompson was cast based on a tape which his agent had sent and a follow-up audition after the first actor cast in the lead was forced to pull out. The film was shot over 30 days in Baltimore, Maryland and Trenton, New Jersey.
Rocket Science premiered on January 19, 2007 at the Sundance Film Festival and was theatrically released on August 10. It was not a financial success, earning only US$756,000 from its $4.5 million budget, though it was well-received by critics. Reviewers praised Thompson and Kendrick's performances and the film's parallels to real life; others believed that the film was deliberately quirky and forgettable. It was nominated for Sundance's Dramatic Grand Jury Prize and three Independent Spirit Awards. Though it failed to win any of the Grand Jury Prizes at Sundance, Blitz won its Dramatic Directing Award.
Storyline
Coming of age in Plainsboro, New Jersey. High school student Hal Hefner stutters. On the evening his parents stop arguing and separate, 43 miles away at the state tournament, his school's legendary debater, Ben Wekselbaum, goes blank mid-sentence, Ben's teammate Ginny Ryerson doesn't get a first-place trophy, and the world changes. That fall, to Hal's amazement, Ginny recruits him for the debate team, mentors him, and will be his partner. He still has his stutter, but he works hard and he falls in love with Ginny. On the day of the first debate of the season, the world changes again. From then until the day of the state tournament, Hal has a lot to sort out. Is love rocket science?
Sound Effects Used
Image Gallery
Audio Samples