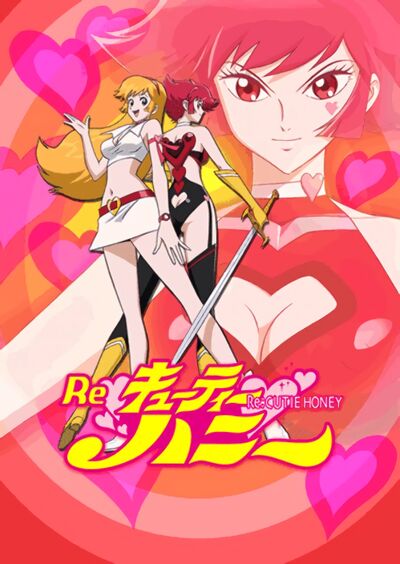 Re: Cutie Honey (Re:キューティーハニー, Ri Kyūtī Hanī) is a three-episode OVA (original video animation) series based on the 2004 tokusatsu (live-action) film Cutie Honey, both being adaptations of the 1970s manga written and illustrated by Go Nagai. The series was co-produced with Gainax and Toei Animation, directed by Hideaki Anno, and shown on the Animax satellite television network in 2004. The first episode aired on July 24, two months after the live-action film was released. DVD releases for each episode followed, with the first released on September 21.
Release Date
July 24, 2004 – September 25, 2004
Also See
New Cutie Honey

Cutie Honey Flash

Cutie Honey (2004)

Cutie Honey: The Live

Cutie Honey: Tears
Storyline
A mysterious organization known as Panther Claw make their presence known by terrorizing Tokyo and giving the cops a run for their money. Police are further baffled by the appearance of a lone cosplaying vigilante who thwarts all of Panther Claw's evil schemes before disappearing. That cosplayer is Honey Kisaragi, the result of the late Professor Kisaragi's prize experiment. A master of disguise, Honey can instantly alter her physical appearance and outfits. But with a push of the heart-shaped button on her choker an (Airborne Element Fixing Device), she transforms herself into Cutie Honey, the scantily clad, sword-wielding warrior of love and justice.
OVA Opening
Sound Effects Used
Image Gallery
Audio Samples