Jurassic World: Dominion Dominates Fandom Wikis - The Loop
Play Sound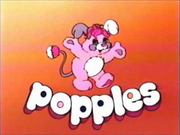 Popples is an animated television series, based on the Popples toys, created by Marie Cisterino, Janet Jones, Fran Kariotakis, Janet Redding, and Susan Trentel, that aired in syndication in the United States from 1986 to 1987. The cartoon was produced by DIC Enterprises and LBS Communications in association with The Maltese Companies.
Like the toys which they are based on, the Popples resemble colorful teddy bears/rabbits with long, pompom-tipped tails, and they have pouches on their backs that allow them to curl into a fuzzy ball. All the Popples stutter when they say words with the letter "P" in them. The name "Popple" is a reference to the popping sound they make when unfolding themselves from such a ball, or pulling objects from their pouches. In the cartoon Popples commonly pull large items from their pouches that could not possibly fit inside, which come from hammerspace; in "Popples Alley", one of the Popples' human friends looks inside one of their pouches and sees numerous objects floating in a void.
Nine of the Popples live with a human brother and sister, Billy and Bonnie Wagner. Billy and Bonnie think they are the only kids who have Popples until a neighbor family moves in and they have their own Popples — the Rock Stars, Pufflings, and Babies. The Popples tend to make the kids activities go out of hand, but with beneficial results by the end. The plot revolved around the children's efforts to hide the existence of the Popples from the adults around them, although their existence is found out by the Wagner parents in the pilot and not in the cartoons.
The Popples also had a comic book series from Star Comics (an imprint of Marvel Comics).
A new Netflix series based on the characters premiered in October 2015.
Although it was mainly produced by DiC's studios in the USA, Canada and its origin country of France, the series utilizes a Japanese anime-esque aesthetic in both its animation and its sound effects. The reason for this is because that Japanese companies such as Nippon Animation and Fizz Sound Creation contributed greatly to the production of the series, as they did with other DiC-produced series at the time like Inspector Gadget, The Care Bears, and Rainbow Brite.
For Season 2, the Post Production Sound Services was provided by Animation City Editorial Services, Inc., Michael J. Cowan serves as an sound engineer, and also an sound transferred. Richard Bruce Elliot serves as an supervisor sound editor.
Storyline
Also See
TV Show Intro
Sound Effects Used
This classic 80s cartoon show uses anime sound effects, along with Hanna-Barbera, Warner Bros., Cartoon Trax Volume 1, Turner Entertainment Co., Series 1000, and a few Rocky and Bullwinkle and Friends sound effects.
Image Gallery
Audio Samples
External Links