Jurassic World: Dominion Dominates Fandom Wikis - The Loop
Play Sound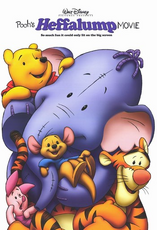 Plot
One day, Winnie the Pooh and his friends hear a strange noise and find a set of large, circular footprints in the Hundred Acre Wood. The friends believe that there is a strange creature known as a "heffalump" in the woods. Rabbit organizes an expedition to go try to catch it. Roo wants to come along, but the others tell him he is too young and small to go. Despite this, Roo slips out on his own in search of the heffalump. He finds one; a playful young creature named Heffridge Trumpler Brompet Heffalump IV—"Lumpy" for short. Roo is afraid of his captive at first but the two quickly become friends and play.
After a while, Lumpy hears his mother calling for him to come home. Roo wants Lumpy to meet all of his friends first, and they head towards the Hundred Acre Wood. Lumpy hesitates, thinking that the "creatures" that live there are scary, but Roo reassures him. The Hundred Acre Wood is deserted, as everyone else is still out searching for the heffalump. Roo and Lumpy continue playing, making a mess of Pooh's house and Rabbit's garden. The two friends hear Lumpy's mother calling him again. They search for Lumpy's mother, but she is nowhere to be seen. Lumpy uses his trunk to call to her, but it does not work. After hours of searching, Lumpy assumes that they will never find her, and starts to cry. Roo consoles Lumpy with a song he learned from Kanga. Then, Roo gets an idea: they could go find his mother, and see if she can help Lumpy.
Meanwhile, the others return home to find Pooh's house and Rabbit's garden a mess. They conclude that the heffalump has invaded. When Lumpy and Roo are discovered, Rabbit thinks that Lumpy has captured Roo. He and the others chase Lumpy through the heffalump traps they set up earlier in the film. Lumpy evades the traps, but Roo gets caught in the last one as Lumpy escapes into the woods. Roo frees himself from the trap, and runs to find Lumpy trapped in a giant cage. Lumpy is upset and hurt, thinking that Roo has lied to him about the inhabitants of the Hundred Acre Wood being friendly. Roo tries to free Lumpy and apologizes for everything. Finally, Roo notices a rope at the top of the cage. He climbs up and unties it, freeing a very grateful Lumpy. Kanga, watching the two interact from behind a nearby tree, realizes that the heffalump is her son's friend.
Rabbit, Pooh, Tigger, and Piglet arrive and lasso Lumpy. Roo yells at them to stop. They refuse to listen, but Kanga tells them to have Roo explain himself. He tells the others that Heffalumps are not scary or mean. While Roo is explaining this, Lumpy stumbles and accidentally knocks Roo into a pile of giant, heavy logs forming a makeshift bridge over a ditch.
Lumpy and Roo's other friends try to rescue Roo, but the logs are too heavy for them to move. Lumpy gets an idea, and tries to call out to his mother. After a few tries, he finally gets it right. Lumpy's mother comes and tosses the logs aside, freeing Roo. Lumpy's mother is very proud that he has learned how to call out to her. Pooh explains to Rabbit why the heffalump was in their wood; she was only looking for her baby. They apologize for their misjudgment and befriend Lumpy and his mother. Roo and Lumpy get a little more time to play together before Lumpy has to go home.
Also See
Sound Effects Used
Image Gallery
Audio Samples
(Hollywoodedge, Elephant Single Clas AT043701 in a very low pitch and slowed down, as used for a Heffalump's trumpet.)
External Links