watch 02:03
Wiki Targeted (Entertainment)
Play Sound
Pets 101 is a National Geographic show that aired in 2010 with only 2 episodes. The show focuses on animals that are found or extinct pets, or usually raised by their owners. The show's documentary includes descriptions about each pet featured in each episode. The show also has two spin-off shows called Dogs 101 and Cats 101, respectively. The show was created by James Parton.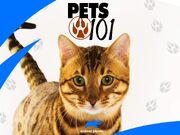 Storyline
The pet world is not just about cats and dogs. Millions of homes welcome a menagerie of furry, feathery, scaly critters in as pets. These love bundles are a quirky mix of warm and fuzzy, chatty and elegant, inquisitive and cuddly. Some lounge around the house, some stay cool in the pool, still others spin the days away on the exercise wheel in their cage. Pets 101 is another episode in the Dogs 101/Cats 101 strand. The same stylized look is used to impart an authoritative air to this fun and quick paced encyclopedic look at these unusual pets. Each animal is shot on a white cyc and a similar graphics package insures continuity with the 101 brand. Each segment in the show will focus on the physical characteristics, origin and care needed for each pet. A team of experts provides the gravitas while the personal story of one pet owner provides the emotion in each segment. Just as in Dogs 101/Cats 101, a ratings system and report card convey user friendly takeaway. Each segment is an aha-fest, filled with fascinating information about each little critter.
Sound Effects Used
Image Gallery
Audio Samples
External Links
Community content is available under
CC-BY-SA
unless otherwise noted.