Jurassic World: Dominion Dominates Fandom Wikis - The Loop
Play Sound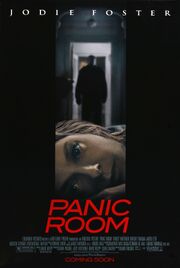 Panic Room is a 2002 American thriller film directed by David Fincher. The film stars Jodie Foster and Kristen Stewart as a mother and daughter whose new home is invaded by burglars, played by Forest Whitaker, Jared Leto, and Dwight Yoakam. The script was written by David Koepp, whose screenplay was inspired by news coverage in 2000 about panic rooms.
The film was Fincher's fifth feature film, following Fight Club (1999). Fincher and Koepp brought together a crew of people with whom each had worked before. The house and its panic room were built on a Raleigh Studios lot. Nicole Kidman was originally cast as the mother, but she left after aggravating a previous injury. Her departure threatened the completion of the film, but Foster quickly replaced Kidman. The filmmakers used computer-generated imagery to create the illusion of the film camera moving through the house's rooms. Foster became pregnant during the shooting schedule, so filming was suspended until after she gave birth. The film's production cost $48 million.
The film was commercially released in the United States and Canada on March 29, 2002. The film grossed $30 million on its opening weekend. In the United States and Canada, it grossed $96.4 million. In other territories, it grossed $100.7 million for a worldwide total of $197.1 million. The film was well-received by critics, who praised Foster's performance and the film's suspense. Foster would later receive a Saturn Award nomination for Best Actress. Panic Room has been assessed for its portrayal of childhood and feminism, the elements of video surveillance and diabetes, and its thematic approach to mortality.
Storyline
Recently divorced Meg Altman and her daughter Sarah have bought a new home in New York. On their tour around the mansion, they come across the panic room. A room so secure, that no one can get in. When three burglars break in, Meg makes a move to the panic room. But all her troubles don't stop there. The criminals know where she is, and what they require the most in the house is in that very room.
Sound Effects Used
Image Gallery
Audio Samples