Jurassic World: Dominion Dominates Fandom Wikis - The Loop
Play Sound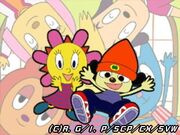 Summary
PaRappa the Rapper: The Animation is a 2001 anime adaption based on the PlayStation game. The country where the game series was very popular is Japan, more than any other country.
Air Date
April 14, 2001 - January 14, 2002
TV Show Intro
Sound Effects Used
NOTE: The Anime, H-B, WB and Cartoon Trax sound effects are used heavily in this series.
HollywoodEdge (Cartoon Trax Europe Edition), Pearson Soundbank - Animated Magic Appearance

HollywoodEdge (Cartoon Trax Europe Edition), Roland UK - Thud And Boing

HollywoodEdge (Europe Edition), Roland UK - Door Open and Close

HollywoodEdge (Europe Edition), Roland UK - Intense Firework Display

HollywoodEdge (Europe Edition), Roland UK - Rooster Crowing 1

HollywoodEdge (Europe Edition), Roland UK - Woman Screams 4

/Sound Ideas, SCREAM - FEMALE, LONG, HUMAN, HORROR 02

HollywoodEdge (Europe Edition), Roland UK - Wood Clattering

Hollywoodedge, Doppler Horn By LeftT PE079801 (Heard once in Episodes 9 and 18.)
Hollywoodedge, High Bird Chirp Bell CRT015501 (ding only)
Hollywoodedge, Long Stretch Pop CRT049307 (Stretch sound only)
Hollywoodedge, Whind Up Toy Click CRT036302 (Teeth Chatter)
Hollywoodedge, Wooden Blck Hits Raz CRT019402 (Running Footsteps only)
Shiny Sound 2 (high pitched)
Sound Ideas, BLINK, CARTOON - XYLO EYE BLINKS (low pitched)
Sound Ideas, CARTOON, MONSTER - WILD MONSTER SCREAM, CREATURE 01 (Heard once in Episode 12.)
Sound Ideas, CARTOON, SLIDE - DOUBLE VIOLIN SLIDE DOWN (Heard once in Episode 1.)
Sound Ideas, CARTOON, SLIDE - SHORT VIOLIN SLIDE DOWN (Heard once in Episode 5.)
Sound Ideas, COMEDY, ACCENT - SPROINGS (1st sproing)
Sound Ideas, HIT, CARTOON - BRAKE DRUM AND BULB HORN HIT (Heard once in Episode 1 and Episode 2.)
Sound Ideas, HIT, CARTOON - HEAVY TIMP RISE (Heard once in Episode 10.)
Sound Ideas, HIT, CARTOON - HOLLOW METALLIC HEAD KONK AND HORN (Heard once in Episode 9.)
Sound Ideas, SCI FI - JETSONS DOORBELL (Heard once in Episodes 1 and 3.)
Sound Ideas, TAKE, CARTOON - FUNNY RUN UP TAKE (Heard once in Episode 29.)
Sound Ideas, TEETH, CARTOON - SCOOBY'S TEETH CHATTER, LONG (High Pitched)
Sound Ideas, WHINE, CARTOON - SHELL SCREAMING WHINE DOWN (Used heavily.)
Image Gallery
PaRappa the Rapper: The Animation/Image Gallery
Audio Samples