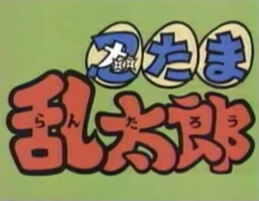 Nintama Rantarō (忍たま乱太郎, Nintama Rantarō "Rantarō the Ninja Boy") is a Japanese anime series produced by Ajia-do Animation Works and broadcast on NHK since April 10, 1993. It is an adaptation of the manga series Rakudai Ninja Rantarō, written and illustrated by Sōbe Amako. Nintama Rantarō centers on the title character and his friends as they attend a school for budding ninjas. Like the manga on which it is based, there are a considerable amount of anachronisms for comedic purposes; for example, the titular character Rantarō is bespectacled. The anime also references other Japanese media personalities such as Ken Shimura. The series is currently the longest-running anime on NHK and the second longest-running anime series of all time. The official English title is Ninjaboy Rantaro.
In July 2011, a live action film version directed by Takashi Miike titled Ninja Kids!!! was released.
Storyline
Rantarou, Shinbei and Kirimaru are ninja apprentices in the Ninja Gakuen, where first grade ones are called "Nintamas" (contraction of the words ninja+tama (egg)). They must learn everything a ninja must know, but as for our heroes, money, food or playing are more interesting. The series show the everyday adventures of our heroes, segmentated in a cartoon fashion, like 2 small episodes in a 30-min show. The cast also includes the teachers (Doi-sensei and crossdressing Yamada-sensei), nintama kunoichis, evil guys (Dokutake ninjas) and even family members of all the cast... funny, nice, with catchy music (especially themes like "don't mind namida" or "0 champion")
Air Date
Also See
Sound Effects Used
Image Gallery
Audio Samples
External Links
Community content is available under
CC-BY-SA
unless otherwise noted.