Jurassic World: Dominion Dominates Fandom Wikis - The Loop
Play Sound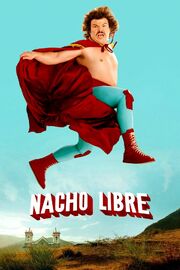 Nacho Libre is a 2006 Mexican-American sports comedy film staring Jack Black as Ignacio that was released on June 16, 2006.
Storyline
Ignacio's parents, a Scandinavian Lutheran missionary and a Mexican deacon, both died while he was still a baby. Now a cook for the Oaxaca monastery orphanage where he was raised, Ignacio dreams of becoming a luchador, but wrestling is strictly forbidden by the monastery as it is considered a sin of vanity. Though Ignacio cares deeply for the orphans, he is unable to provide decent meals for them due to a lack of funds. He also struggles with his feelings for Sister Encarnación, a nun who has just arrived to teach at the orphanage. One night, while collecting a bag of tortilla chips for the orphans, Ignacio gets mugged for the chips by a street thief named Steven. Having had enough, Ignacio decides to disregard the monastery's rules and become a luchador to make money. He convinces Steven to join him by promising to share the prize money if they win, and the two join a local competition as tag partners.
Ignacio fights with the moniker "Nacho" to keep his identity secret, while Steven adopts the name "Esqueleto". They lose their first match but still get paid nicely, as wrestlers are entitled to a portion of the total revenue. They continue to wrestle every week, with Ignacio using the money to acquire better food for the orphans but becoming frustrated that the duo can never achieve victory in the ring. Ignacio tries everything he can think of, including a folk remedy to acquire the powers of an eagle, but success still eludes the two. He then seeks advice from champion luchador Ramses, who arrogantly rebuffs his attempts at conversation.
Undeterred, the duo infiltrate a party Ramses's manager holds for the best wrestlers. Steven climbs over a wall to get inside, where he discovers that in order to be considered a professional, one must be the last luchador standing in the ring at an upcoming free-for-all match. Ignacio gets in by disguising himself as a band member playing for the party, but does not know their material and improvises; Ramses finds Ignacio's performance annoying and ousts him. Attending the party causes Ignacio to fall behind on his responsibilities to the orphans, for which he angrily blames Steven, who retaliates by declaring he hates all orphans; they acrimoniously end their partnership.
Ignacio's secret is revealed to the entire monastery when his robe catches fire during mass, exposing his wrestling costume and forcing him to admit that he is a luchador. He declares that he intends to fight at a battle royale for the right to take on Ramses for a cash prize, which he will use to buy a bus for the orphans. During the match, wrestler Silencio ultimately emerges the victor after defeating Ignacio, who comes in second place. Ignacio is banished from the monastery, so he goes to live in the 'wilderness', which is not actually very far from the nearby village.
The next morning, Steven comes to tell him that Silencio has been injured and cannot fight, and that as the second-place finisher, Ignacio now has the right to fight Ramses; Ignacio and Steven agree to team up again. That night, Ignacio sends a message to Encarnación, explaining his plan and confessing his love to her.
Ignacio overcomes difficulty and manages to do well in the match, winning the crowd's support, but Ramses cheats and nearly wins until Ignacio sees Encarnación enter the arena with the orphans. Inspired by their support, Nacho rallies himself and defeats Ramses with a diving technique.
Ignacio becomes a professional wrestler and eventually manages to buy a bus for the orphans with his prize money; he then takes the orphans, Steven, and Sister Encarnación on a field trip to Monte Albán.
Sound Effects Used
Image Gallery
Audio Samples
External Links