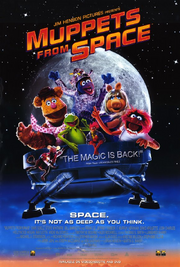 Muppets from Space
 is a 1999 American science fiction comedy film produced by Columbia Pictures and Jim Henson Pictures. The sixth feature film to star the Muppets, it is the first film since the death of Muppets creator Jim Henson to have an original Muppet-focused plot, and is a deviation of other Muppet films as it is the only non-musical film to date. The film was directed by Tim Hill (in his directorial debut) from a screenplay by Jerry Juhl, Joey Mazzarino, and Ken Kaufman, and stars Jeffrey Tambor, Pat Hingle, Rob Schneider, and Andie MacDowell, alongside Muppet performers Dave Goelz, Steve Whitmire, Bill Barretta, and Frank Oz. In the film, Gonzo attempts to discover his origins after having nightmares. After he and Rizzo the Rat are captured by government officials during his search, Kermit the Frog and the rest of the Muppet gang must save them.
The film was released on July 14, 1999 by Sony Pictures Releasing. Alongside The Adventures of Elmo in Grouchland, it is the last Muppet feature film to have the involvement of Oz prior to his retirement from Muppet performing the following year and Jerry Nelson prior to his own retirement (bar an uncredited vocal cameo in The Muppets serving as his final role before his death in August 2012) as well as the last Muppet film written by Juhl prior to his death in 2005. It was also the last Muppets film to be released theatrically until The Muppets in 2011. The film was shot in Wilmington, North Carolina at EUE/Screen Gems in 1998.
Storyline
Also See
Movie Trailer
Sound Effects Used
Hollywoodedge, Cats Two Angry YowlsD PE022601 (4th yowl is heard once while Gonzo was at the tractor mowing a message.)
Hollywoodedge, Sky Rocket Loud High TE021701 (as Gonzo landed on the "target", thought going through it and crashing through it., may be confused for similar whistles)
Sound Ideas, BOING, CARTOON - SPROING 01 (used the head shake)
Sound Ideas, SQUEAK, CARTOON - FUNNY HEAD SCRATCH SQUEAKS (Heard once during "Brick House")
Sound Ideas, ZIP, CARTOON - BIG WHISTLE ZING OUT (Heard in normal pitch and high pitch)
Image Gallery
Audio Samples
External Links
Community content is available under
CC-BY-SA
unless otherwise noted.