Doctor Strange in The Multiverse o Madness - The Loop
Play Sound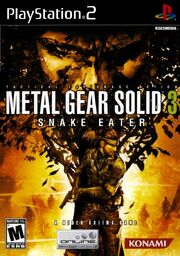 Metal Gear Solid 3: Snake Eater is an action-adventure stealth video game produced by Konami Computer Entertainment Japan for the PlayStation 2. It was released in late 2004 in North America and Japan, then in early 2005 in Europe and Australia. It was the fifth Metal Gear game written and directed by Hideo Kojima and serves as a prequel to the entire Metal Gear series. An expanded edition, titled Metal Gear Solid 3: Subsistence, was released in Japan in late 2005, then in North America, Europe and Australia in 2006.
Set in 1964, 31 years before the events of the original Metal Gear, the story centers on the FOX operative codenamed Naked Snake as he attempts to rescue Russian rocket scientist Nikolai Stepanovich Sokolov, sabotage an experimental superweapon, and assassinate his defected former boss. While previous games were set in a primarily urban environment, Snake Eater adopts a 1960s Soviet jungle setting, with the high tech, near-future trappings of previous Metal Gear Solid games replaced with wilderness. While the environment has changed, the game's focus remains on stealth and infiltration, while retaining the series' self-referential, fourth-wall-breaking sense of humor. The story of Snake Eater is told through numerous cutscenes and radio conversations.
Considered one of the greatest video games of all time, Metal Gear Solid 3: Snake Eater received praise for its story, gameplay, graphics, setting, characters, and ending, as well as its departure from the series' conventions. Snake Eater was a commercial success, having sold more than four million copies worldwide as of March 2010.
Storyline
In 1964, a U.S. government operative codenamed "Snake" must infiltrate mountainous Soviet territory to rescue a scientist building a weapon of terrible power.
Sound Effects Used
Image Gallery
Audio Samples
External Links