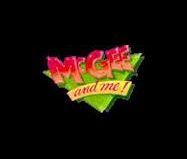 The Adventures of McGee and Me! is an American Christian television series created by Ken C. Johnson and Bill Myers. The series premiered on June 4, 1989, spanning twelve episodes until its conclusion on June 11, 1995. Each half-hour-long episode centers on Nicholas, his cartoon friend, McGee, and the moral lessons they learn as Nick grows up after moving to a new town. McGee and Me! deals with issues such as honesty ("The Big Lie"), bullying ("Skate Expectations"), and faith in God ("Twister and Shout").
Plot
The lead character in McGee and Me! is an 11 year old cartoonist Nicholas "Nick" Martin who draws a character named McGee who helps him through his struggles at home and school, with a little extra help from the Bible. (Nick sometimes puts McGee into Bible-based cartoons to help work through his dramatic problems). The series was shot in Hollywood and featured Joseph Dammann as Nick Martin, with guest stars like Orel Hershiser, Dick Van Patten, Carol Lawrence, Grant Goodeve, and Jerry Houser. The first McGee was launched in 1989. Although shot on film, McGee and Me! was the first made-for-video production to air on network television (ABC-TV), and was a winner of over twenty awards.
Sound Effects Used
Image Gallery
Audio Samples
Community content is available under
CC-BY-SA
unless otherwise noted.