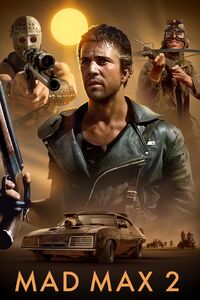 Mad Max 2 (released as The Road Warrior in the United States) is a 1981 Australian post-apocalyptic action film directed by George Miller. It is the second installment in the Mad Max film series, with Mel Gibson reprising his role as "Mad" Max Rockatansky. The film's tale of a community of settlers who moved to defend themselves against a roving band of marauders follows an archetypical "Western" frontier movie motif, as does Max's role as a hardened man who rediscovers his humanity when he decides to help the settlers. Filming took place in locations around Broken Hill, in the outback of New South Wales.
Mad Max 2 was released on December 24, 1981, and received a wide critical acclaim. Observers praised the visuals and Gibson's role. Noteworthy elements of the film also include cinematographer Dean Semler's widescreen photography of Australia's vast desert landscapes, the sparing use of dialogue, costume designer Norma Moriceau's punk mohawked, leather bondage gear-wearing bikers, its fast-paced, tightly edited battle and chase scenes, and Brian May's musical score.
The film's post-apocalyptic and punk aesthetics popularised the genre in film and fiction writing. It was also a box office success, being the highest-grossing Australian film worldwide. It won the Best International Film from six nominations at the Saturn Award ceremony, including: Best Director for Miller; Best Actor for Gibson; Best Supporting Actor for Bruce Spence; Best Writing for Miller, Hayes and Hannant; and Best Costume for Norma Moriceau. Mad Max 2 became a cult film, with fan clubs and "road warrior"-themed activities continuing into the 21st century, and is now widely considered to be one of the greatest action movies ever made, as well as one of the greatest sequels ever made. The film was preceded by Mad Max (1979) and followed by Mad Max Beyond Thunderdome (1985) and Mad Max: Fury Road (2015).
Also See
Storyline
Sound Effects Used
Image Gallery
Audio Samples