Jurassic World: Dominion Dominates Fandom Wikis - The Loop
Play Sound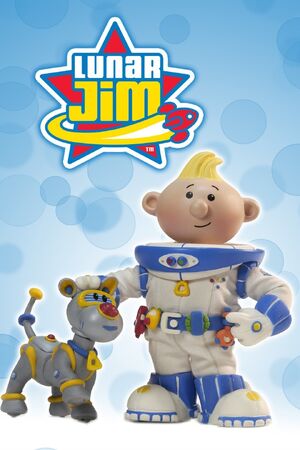 Lunar Jim is a Canadian animated preschool stop-motion television show oriented around Lunar Jim who is an astronaut on the blue moon L22. It was produced in Canada by Halifax Film and Alliance Atlantis, and aired in the US as well on Discovery Channel and V-Me from 2006 to 2012. The show was based on an original concept created by Chris McKay and Alexander Bar.
Season One was executive produced by Jeff Rosen. It was script edited in this season by Peter Sauder. Season Two was penned by the award-winning veteran producer/writer Jed MacKay. Director Benny Zelkowicz provided the voice of Jim.
Jim and his team; Rover the Robot Dog, Ripple the Super Space Mechanic, Eco the Farmer, and TED, the Technical Equipment Device, live on Blue Moon L22, the second-to-last moon on the edge of the Milky Way. Focusing on exploration and inquiry, Lunar Jim intends to promote such life skills as problem-solving, persistence, creativity, and cooperation, with an emphasis on "pre-science skills". His rallying cry is "Let's get lunar!"
Storyline
TV Show Intro
Sound Effects Used
Bainbridge Records, Single Cow Moo (Heard thrice in "That's Odd, Where's the Pod?".)
Hollywoodedge, Cow Moo SS022201 (Heard once in "That's Odd, Where's the Pod?".)
Hollywoodedge, Sm Heavy Metal Door Sl PE185001 (Heard once in "The Secret of the Crystal Cave".)
Sound Ideas, BIRD, CHICKEN - FUNNY HEN CLUCKS, ANIMAL (Used for Delores.)
Sound Ideas, BLOOP, CARTOON - LITTLE BLOOP (Heard once in "Moon Pixies".)
Sound Ideas, BOING, CARTOON - HOYT'S BOING (Heard once in "That's Odd, Where's the Pod?".)
Sound Ideas, CARTOON, BELL - SMALL BELL CHIMES, GLISS UP, MUSIC, PERCUSSION (Heard once in "Moon Pixies".)
Sound Ideas, CARTOON, SLIDE - MEDIUM VIOLIN SLIDE DOWN (Heard once in "Meteor Mystery".)
Sound Ideas, CARTOON, TWANG - WOBBLING TWANG (Heard once in "Ted and the Lunar Beanstalk".)
Sound Ideas, CARTOON, ZIP - VERY QUICK (Heard once in a low volume in "Ted and the Lunar Beanstalk".)
Sound Ideas, COMEDY, ACCENT - SLIDE WHISTLE DOWN (Heard twice in "The Moon Thief".)
Sound Ideas, COMEDY, ACCENT - SLIDE WHISTLE UP (Heard once in "The Moon Thief".)
Sound Ideas, COMEDY, ACCENT - SMALL JEWS HARP: HOPPING (Heard once in "The Moon Thief".)
Sound Ideas, COMEDY, ACCENT - WHOOP WHISTLE: SHORT (Heard once in "The Moon Thief".)

Sound Ideas, COW - COW: INTERNAL: SINGLE MOO, ANIMAL 01

(Heard once in "That's Odd, Where's the Pod?".)
Sound Ideas, COW - SINGLE MOO, ANIMAL 02 (Heard twice in "That's Odd, Where's the Pod?".)
Sound Ideas, HIT, CARTOON - ZIP AND HEAVY THUMP (Heard in every episode whenever Jim and Rover "get lunar".)
Sound Ideas, HIT, METAL - PIPE HIT (Heard once in "Up, Up and Away (Almost)".)
Sound Ideas, HUMAN, LAUGH - GIGGLING: CHILD (Heard once in a high pitch in "Moon Pixies".)
Sound Ideas, MOTOR, CARTOON - JETSONS LIP MOTOR (Heard once in "Meteor Mystery".)
Sound Ideas, ROBOT, MOTOR - ROBOT SERVO MOTOR 03 (Heard once in "Meteor Mystery" and "Moon Pixies".)
Sound Ideas, ROBOTICS - ROBOT: SERVO MOVEMENT 01 (Heard once in "The Moon Thief".)
Sound Ideas, SCI FI - CONSTANT SPACE OSCILLATIONS (Heard once in "Up, Up and Away (Almost)".)
Sound Ideas, SKID, CARTOON - SHORT SKID (H-B) (Heard once in "Up, Up and Away (Almost)".)
Sound Ideas, SLURP, CARTOON - BIG SINGLE SLURP, HUMAN (Heard once in "The Secret of the Crystal Cave".)
Sound Ideas, TELEMETRY - ELECTRONIC COMPUTER TELEMETRY SEQUENCE, BEEP (Heard once in a high pitch in "The Moon Thief".)
Sound Ideas, TWANG, CARTOON - SAW BLADE TWANG 01 (Heard once in "Moon Pixies".)
Sound Ideas, TWANG, CARTOON - SAW BLADE TWANG 02 (Heard once in "That's Odd, Where's the Pod?", "Up, Up and Away (Almost)", "Ted and the Lunar Beanstalk" and "Moon Pixies".)
Image Gallery
Audio Samples
External Links