Jurassic World: Dominion Dominates Fandom Wikis - The Loop
Play Sound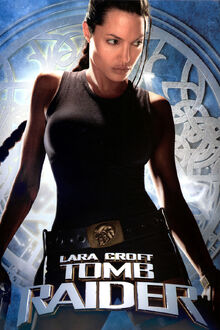 Lara Croft: Tomb Raider is a 2001 action adventure film based on the Tomb Raider video game series featuring the character Lara Croft, portrayed by Angelina Jolie. An international co-production between the United States, the United Kingdom, Japan and Germany, it was directed by Simon West and revolves around Lara Croft trying to obtain ancient artifacts from the Illuminati.
The film was released on June 15, 2001, and received generally negative reviews from critics, although Angelina Jolie was praised for her performance. Tomb Raider was the highest-grossing film on its opening weekend. A sequel, Lara Croft: Tomb Raider – The Cradle of Life, was released in 2003.
Skywalker Sound (uncredited) provided sound design: Steve Boeddeker is the Sound Designer/Supervising Sound Editor; Frank Eulner, Andrea Gard, Kyrsten Mate, Charles Maynes, and Addison Teague are the Sound Design Editors.
SoundStorm (uncredited) and Paramount Pictures did the digital sound editing: Nigel Mills is an uncredited Supervising Sound Editor; Bub Asman and Alan Robert Murray are the Co-Supervising Sound Editors; Ronald Eng, David Grimaldi, Doug Jackson, Michael Jonascu, Chuck Michael, Ed Callahan (uncredited) and Mike Wood (uncredited) are the sound effects editors; Thomas W. Small is the Supervising Foley Editor; Peter Holt (uncredited), Scott Curits and Matthew Harrison are the foley editors; Dan Blazi, Anne Couk, Roger Fearing, Matthew C. May, Jon Michaels, and Conor Mackey (uncredited) are the assistant sound editors.
Roger Ireland and Nigel Stone did sound editing in London.
Sarah Monat & Vince Nicastro did the foley.
Storyline
This live action feature is inspired by the most successful interactive video-game character in history -- Lara Croft. Beautiful and brainy, Lara (Angelina Jolie) is the heroine of Eidos Interactive's phenomenally successful "Tomb Raider" game series. It is one woman's fearless quest criss-crossing the globe, in an amazing attempt to save the world.
Sound Effects Used
Other Audio Used
Dick De Benedictis Music ("Evil Mind 3" used once)
See Also
Lara Croft Tomb Raider: The Cradle of Life (2003)
Image Gallery
Audio Samples