Jurassic World: Dominion Dominates Fandom Wikis - The Loop
Play Sound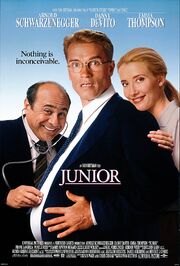 Junior is a 1994 American comedy film directed and produced by Ivan Reitman, and starring Arnold Schwarzenegger, Danny DeVito and Emma Thompson. The film follows Alex Hesse, an Austrian-American scientist who agrees to undergo a male pregnancy as part of a scientific experiment.
The film was released in the United States the day before Thanksgiving on November 23, 1994 to lukewarm reception and did not match the box office performance of Reitman's earlier films starring Schwarzenegger - 1988's Twins, which also starred DeVito, and 1990's Kindergarten Cop (1990). Schwarzenegger and Thompson received Golden Globe Award nominations for their performances. The film's theme song, Patty Smyth's "Look What Love Has Done" was also recognized, going on to be nominated for the Academy Award for Best Original Song.
Storyline
Austrian research geneticist Dr. Alex Hesse (Arnold Schwarzenegger) and his OB/GYN colleague Dr. Larry Arbogast (Danny DeVito) invented a fertility drug, "Expectane", designed to reduce the chances of a miscarriage. Unfortunately, the Food and Drug Administration has not yet approved the drug; so Hesse and Arbogast cannot continue their research. The head of the review board, Noah Banes (Frank Langella), informs Arbogast that while the FDA denied human experimentation, the team managed to receive a donation from geneticist Dr. Diana Reddin (Emma Thompson) from the ovum cryogenics department.
Disappointed by these events, Hesse plans to start over in Europe, but Arbogast suggests they can still perform the experiment. A Canadian firm called Lyndon Pharmaceutical, is offering to fund the experiment provided they find a volunteer. Hesse questions the likelihood of a woman taking an unapproved drug during pregnancy, but Arbogast suggests omitting the gender of the volunteer and convinces Hesse to impregnate himself, using an ovum codenamed "Junior".
That night, Hesse dreams his potential offspring has his own face pasted onto it. As weeks go by, he complains to Arbogast of sore nipples, and later, the normally aloof Hesse lightens up and chats incessantly about walks, massages, and naps. Hesse contemplates fatherhood after watching some television commercials and breaks down sobbing.
When the time comes for Hesse to stop taking the drug and release the experiment's results to Lyndon Pharmaceutical, Hesse continues taking the drug and decides to carry the pregnancy to term. Initially annoyed with Hesse's decision, Abogast accepts it and attempts to keep it hidden from others. Hesse develops a relationship with Reddin and reveals his pregnancy to Angela.
Reddin is stunned and angry when it is revealed that the "Junior" ovum is hers. When Banes learns of the experiment he attempts to take credit for it. Disguised as a woman, Hesse hides in a retreat for expectant mothers, blaming his masculine appearance on anabolic steroid use. Hesse receives a visit from Reddin, who tells him it doesn't matter who's is pregnant, because Hesse is the father, and Reddin is the mother. Meanwhile, Arbogast reveals the experiment's data to Lyndon Pharmaceutical, who agree to partner with Hesse and Arbogast.
Later, Hesse experiences abdominal pain from the physical damage caused by the start of labor. From his resort room, he calls both Arbogast and Reddin. As Reddin rushes to the resort, Arbogast tells a fellow doctor to prep for an emergency c-section. However, a hospital staffer overhears the doctor's conversation and alerts Banes about it. Banes summons the media and the University Dean in hopes of taking credit for the world's first pregnant man, but Arbogast's fellow doctor warns him and Arbogast creates a decoy for Hesse to allow a private c-section. When Arbogast arrives, the media only sees his pregnant ex-wife, discrediting Banes and causing him to get fired by the Dean.
Meanwhile, Reddin and Hesse use the fire escape to enter the hospital and Angela goes into labor. Hesse has an emergency caesarean section. Arbogast sends Reddin to keep Angela company. Reddin enters the waiting room and, with no hospital staff available, becomes Angela's delivery coach. Hesse eventually gives birth to a healthy baby girl. Arbogast announces the arrival to Reddin, while she is assisting Angela with contractions. Reddin leaves Angela with Arbogast and rushes off to see Hesse and her baby in Post-op. Together, they decide to name the baby girl Junior. Arbogast delivers Angela's child and the two reconcile to raise the boy, Jake, as their own.
In the final scene, the two families are on vacation celebrating the birthdays of Junior and Jake. Reddin is pregnant with their second child. Angela mentions wanting another baby but does not want to endure pregnancy again and they all try to convince a reluctant Arbogast to carry the child.
Also See
Junior (1994) (Trailers)

Junior (1994) (TV Spots)
Movie Trailer
Sound Effects Used
Image Gallery
Audio Samples
External Links