Doctor Strange in The Multiverse o Madness - The Loop
Play Sound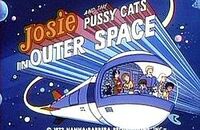 Josie and the Pussycats in Outer Space is a Hanna-Barbera series that debuted September 1972 on CBS. This version of the series launched the characters into outer space; the opening credits sequence shows Alexandra accidentally knocking the cast into a spaceship and launching it into deep space. Every episode centered on the Pussycats encountering a strange new world, where they would encounter and often be kidnapped by various alien races before escaping and attempting to return home.
Musical numbers and chase sequences set to newly recorded songs were featured in this spin-off series as with the original. Josie in Outer Space also added the character of Bleep, a pet-sized fluffy alien adopted by Melody, who was the only one who could understand the creature (who only says "Bleep") and numerous other alien animals encountered.
The 16 episodes of Josie and the Pussycats in Outer Space were re-run for the 1973–1974 season until January 26, 1974, when CBS canceled it and ordered no more new Josie episodes from Hanna-Barbera. Like its predecessor, Josie and the Pussycats, Josie and the Pussycats in Outer Space contained a laugh track as well, though this time around, an abridged, inferior laugh track was utilized.
Plot
Josie and the gang are doing a photo shoot on a rocket ship when Alexadra, wanting to get into the spotlight, shoves Josie out of the way, causing Josie to accidentally bump into the rocket's launch control causing the rocket to take off with them on board. Throughout the series, the band along with the alien creature Bleep continuously battle aliens intent on taking over the universe as they attempt to find their way home.
Sound Effects Used
Image Gallery
Josie and the Pussycats in Outer Space/Image Gallery
Audio Samples