Jurassic World: Dominion Dominates Fandom Wikis - The Loop
Play Sound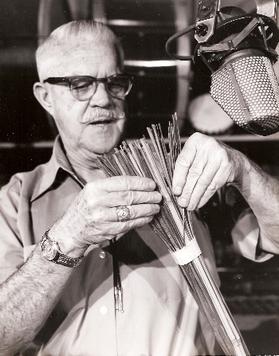 John James MacDonald (May 19, 1906 – February 1, 1991) was a British-born American animator, voice actor, musician, and the original head of the Disney sound effects department. He was also the voice of Mickey Mouse from 1948 to 1977.
Career and Sound Effects
Since he possessed a load of instruments in the department, he was able to direct and record sound effects for shorts like "Timber", "Honey Harvester", "African Diary", and many others. Some of his sound effects, including the ones from "Timber", were borrowed by Hanna-Barbera and UPA to use in their cartoons, and can still be found on their sound libraries today. Treg Brown also used a small number of MacDonald's sounds in several Looney Tunes and Merrie Melodies produced by Warner Bros. In addition to directing sounds for animated shorts as aurally complicated as Mickey's Trailer (1938), he developed many original inventions and contraptions to achieve expressive sounds for characters like Casey Jr., the circus train engine from Dumbo (1941); Evinrude the dragonfly from The Rescuers (1977); the bees in Winnie the Pooh and the Honey Tree (1966); and Buzz-buzz (later called "Spike"), the bee who gets the best of Donald Duck in his 1950s short films. He also made the sound effects of Tick Tock the crocodile from Peter Pan (1953) and Dragon Maleficent from Sleeping Beauty (1959) by using castanets.
MacDonald also added voice effects, like on-screen humming for Kirk Douglas in 20,000 Leagues Under the Sea (1954).
Almost all of his sound effects were available on Cartoon Trax Volume 1, released in the summer of 1992. More of his sound effects were also (but not all of them) available on the Hanna-Barbera Sound Effects Library.
By the time of his death, he was preparing to work on the sounds for the Splash Mountain attraction in Tokyo and Walt Disney World.