Jurassic World: Dominion Dominates Fandom Wikis - The Loop
Play Sound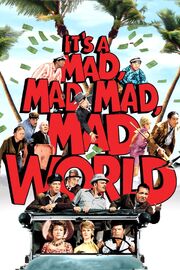 It's a Mad, Mad, Mad, Mad World is a 1963 American comedy film produced and directed by Stanley Kramer with a screenplay by William Rose and Tania Rose from a story by Tania Rose. The film, starring Spencer Tracy with an all-star cast, is about the madcap pursuit of $350,000 in stolen cash by a diverse and colorful group of strangers. It premiered on November 7, 1963. The cast features Edie Adams, Milton Berle, Sid Caesar, Buddy Hackett, Ethel Merman, Mickey Rooney, Phil Silvers, Terry-Thomas, and Jonathan Winters.
The film marked the first time Kramer directed a comedy, though he had produced the comedy So This Is New York (1948) in 1948. He is best known for producing and directing drama films about social problems, such as The Defiant Ones (1958), Inherit the Wind (1960), Judgment at Nuremberg (1961), and Guess Who's Coming to Dinner (1967). His first attempt at directing a comedy film paid off immensely as It's a Mad, Mad, Mad, Mad World became a critical and commercial success in 1963 and was nominated for six Academy Awards, winning for Best Sound Editing, and two Golden Globe Awards.
Despite this, the film suffered severe cuts by its distributor United Artists in order to give the film a shorter running time for its general release. The footage was excised against Kramer's wishes. On October 15, 2013, however, it was announced that the Criterion Collection had collaborated with Metro-Goldwyn-Mayer, United Artists, and film restoration expert Robert A. Harris to reconstruct and restore It's a Mad, Mad, Mad, Mad World to be as close as possible to the original 197-minute version envisioned by Kramer. It was released in a five-disc "Dual Format" Blu-ray/DVD Combo Pack on January 21, 2014.
It's a Mad, Mad, Mad, Mad World featured at number 40 in the American Film Institute's list 100 Years ... 100 Laughs.
Storyline
Movie Trailer
Sound Effects Used
Image Gallery
Audio Samples
External Links