Jurassic World: Dominion Dominates Fandom Wikis - The Loop
Play Sound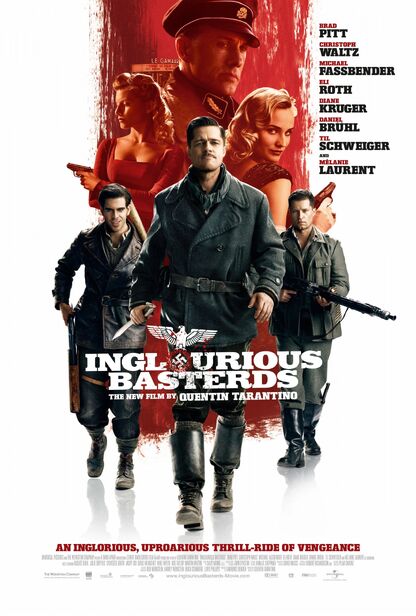 Inglourious Basterds is a 2009 war film written and directed by Quentin Tarantino and starring Brad Pitt, Christoph Waltz, Michael Fassbender, Eli Roth, Diane Kruger, Daniel Brühl, Til Schweiger and Mélanie Laurent. The film tells an alternate history story of two plots to assassinate Nazi Germany's leadership, one planned by Shosanna Dreyfus (Laurent), a young French Jewish cinema proprietor, and the other by the British but ultimately conducted solely by a team of Jewish American soldiers led by First Lieutenant Aldo Raine (Pitt). Christoph Waltz co-stars as Hans Landa, an SS colonel in charge of tracking down Raine's group. The title was inspired by Italian director Enzo G. Castellari's macaroni combat film The Inglorious Bastards (1978), though Tarantino's film is not a remake of it.
Tarantino wrote the script in 1998, but struggled with the ending and chose instead to direct the two-part film Kill Bill. After directing Death Proof in 2007, Tarantino returned to work on Inglourious Basterds. A co-production of the United States and Germany, the film began principal photography in October 2008 and was filmed in Germany and France with a $70 million production budget. It premiered on May 20, 2009, at the 62nd Cannes Film Festival, and received a wide release in theaters in the United States and Europe in August 2009 by The Weinstein Company and Universal Pictures.
Inglourious Basterds grossed over $321 million in theaters worldwide, making it Tarantino's highest-grossing film to that point, until it was surpassed in box office by Django Unchained (2012) and Once Upon a Time in Hollywood (2019). The film received widespread acclaim and multiple awards and nominations, among them eight Academy Award nominations (including Best Picture, Best Director and Best Original Screenplay). For his role as Landa, Waltz won the Cannes Film Festival's Best Actor Award, as well as the BAFTA, Screen Actors Guild, Critics' Choice, Golden Globe, and Academy Award for Best Supporting Actor.
Storyline
In German-occupied France, young Jewish refugee Shosanna Dreyfus witnesses the slaughter of her family by Colonel Hans Landa. Narrowly escaping with her life, she plots her revenge several years later when German war hero Fredrick Zoller takes a rapid interest in her and arranges an illustrious movie premiere at the theater she now runs. With the promise of every major Nazi officer in attendance, the event catches the attention of the "Basterds", a group of Jewish-American guerrilla soldiers led by the ruthless Lt. Aldo Raine. As the relentless executioners advance and the conspiring young girl's plans are set in motion, their paths will cross for a fateful evening that will shake the very annals of history.
Sound Effects Used
Image Gallery
Audio Samples