Wiki Targeted (Entertainment)
Play Sound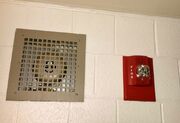 This sound effect can be found on The Premiere Edition Volume 1, which was made by Hollywood Edge. It is a recording of a Simplex Time Recorder 4090-2 6" 120 VAC bell ringing continuously and loudly. A similar sound effect, a low pitched version that is BELL, SCHOOL - SCHOOL BELL: INT: LONG RING can be found on the Series 6000 Extension I Sound Effects Library (produced by Sound Ideas).
Info
First recorded: 1990
Creator: Simplex Time Recorder Co.
Owner: The Hollywood Edge (1990-2014), Sound Ideas (2014-present)
Origin: Simplex Time Recorder Co. 4090-6 vibrating 6" bell
Year debut: 1990
First heard: N/A
Area used: Worldwide
Sound Effect Description
School Bell; Long Ring, Interior, Close Perspective.
Clean, Full Length and Unedited Link to the Sound Effect
Trivia
This happens the be the most common and overused school bell sound effect that many sound companies are fond of using. There is a 99.9% chance you have heard this sound effect before. There are even some schools in real life that use this actual bell, mostly in school buildings built between the early 1970s and the mid-1980s, typically those built with Simplex master clock and bell systems that are still in use.
Used In
TV Shows
Note: Not all TV Shows use this school bell sound. For example, iCarly used BELL, SCHOOL - SCHOOL BELL: INT: LONG RING as it's main school bell sound (except for 1 episode), though there are some shows that often use both as it's main school bell sound in different episodes (such as Buffy the Vampire Slayer and Drake & Josh.)
TV Specials
Movies
Shorts
Commercials
New Zealand:
USA:
Ad Council - Bullying Prevention - Lockers (2012)
Can You See Me? PSA (2018)
Cheetos Twisted: School (2003)
Cookie Crisp: School (1999)
Cottonelle Toilet Paper (2017)
Danimals XL (2005)
Disney's One Saturday Morning (1998) (Used as an alarm clock.)
Lunchables: Feed Your Great Ideas (2012)
Nick.Com (2000)
OntarioGov PSA - Stop Sexual Violence #WhoWillYouHelp (2015)
Porsche - 911 Carrera (2006)
Some other commercial (2019)
The Story of Vans (2016)
Super Mario Bros. Deluxe (1999)
Super Mario All-Stars Mail-In Commercial (1994)
UCP PSA: School Cafeteria (2004)
Under Armour - Will Finds a Way (2018)
Values.com - Just Say Hi! (2000)
Vigilante 8 (1998) (Slightly pitched.)
Radio Spots
USA:
Best Deals Online - 20% Off Offer (2017)
During the New Messages #15 thread , I (Hotheart123) heard an advertisement on the radio about some kind of sales event, that played a trimmed down version of this sound twice for no reason. I can't tell what it is.
Video Games
Nintendo GameCube:
PC:
PlayStation 2:
PlayStation 3:
Music Videos
Anne-Marie - 2002 (2018)
The Fray - Over My Head (Cable Car) (2007)
Jake Paul - My Teachers (Feat SUNNY & AT3) (2018) - (Heard in the beginning of the music video at a lower volume.) 
Trailers
Night School (2018) (Trailers)
Percy Jackson and the Olympians: The Lightning Thief (2010) (Trailers)
Websites
BrainPop (Heard once in "Winter Holidays".)
YouTube Videos
Leisure
Casinos:
MGM Springfield (Springfield, Massachusetts, United States)
Music
Rihanna - Birthday Cake (2012)
Zara Larsson - Ain't My Fault (2017) (the song starts with this SFX)
There's a fourth song Jacobjohn55 says he heard with this SFX. I Hotheart123 will have him ask his brother.
Melanie Martinez - Playdate (2015) (heard twice)
Educational Media
Get Street Smart: A Kid's Guide To Stranger Dangers (1995)
Real Life
Edgar B. Davis K-8 School, Brockton MA
Other Media
93.1 Jack FM
103.5 KOST
SiriusXM (for certain drop-ins, IDs and promos on select stations)
Anime
Image Gallery
Hollywoodedge, School Bell Long Ring PE193201/Image Gallery
Audio Samples
Community content is available under
CC-BY-SA
unless otherwise noted.