This sound effect can be found on Animal Trax, which was made by The Hollywood Edge. Some of these quacks are similar to, but should not be confused for any of the quacks contained in Hollywoodedge, Bird Duck Quacks Clos PE020501/Valentino Single Duck.
Clean, Full Length and Unedited Link to the Sound Effect
Sound Effect Description
Ducks Quacks. Duck Quacks - no Ambience.
Used In
TV Shows
Movies
YouTube Videos
Anime
Image Gallery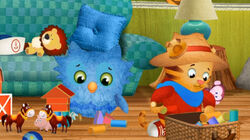 Audio Samples