watch 03:27
Wiki Targeted (Entertainment)
Play Sound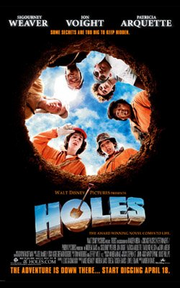 Storyline
"But if you forget to come back for Madame Zeroni, you and your family will be cursed for always and eternity." Those were the exact words spoken to young Elya Yelnats the day he forget to repay Madame Zeroni. From then on his family was cursed with bad luck. One hundred years later Stanley Yelnats IV is accused of stealing a pair of cleats from a major league baseball player and sent to Camp Green Lake (a dry lake bed in the middle of the desert). It never rains at Camp Green Lake, it hasn't for one hundred years. The secretive and mysterious Warden has each inmate spend every day digging one hole to "build character." But when an artifact from the famous "Kissin' Kate" Barlow if found in a hole, the Warden forces the boys to work double time leading Stanley to deduce they're digging because the Warden is looking for something. But what? And how is the mystery of Camp Green Lake, connected to Stanley's family curse?
Also See
Movie Trailer
Sound Effects Used
Image Gallery
Audio Samples
External Links
Community content is available under
CC-BY-SA
unless otherwise noted.