Wiki Targeted (Entertainment)
Play Sound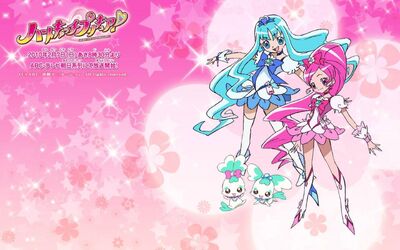 Storyline
In each person resides a Heart Flower, which is connected to the great Heart Tree that watches over everyone. Protecting this tree are the HeartCatch Pretty Cures, who defend it against the Desert Apostles, who plan to wilt everything and turn the world into a desert. However, when the current Pretty Cure, Cure Moonlight, has been defeated in battle and the Heart Tree loses its flowers, she sends two fairies, Chypre and Coffret, to the surface in order to seek out her replacement. They find Tsubomi Hanasaki, a shy flower-loving girl that had just moved into the city with her family, who is given the power to become Cure Blossom. Joined by her new friend, Erika Kurumi, who becomes Cure Marine, they fight against the Desert Apostles who transform the wilting Heart Flowers inside people into monsters known as Desertarians. By defeating these monsters, they gain Heart Seeds which allow the Heart Tree to become healthier again.
Air Date
February 7, 2010 – January 30, 2011
Also See
Sound Effects Used
Image Gallery
Audio Samples
External Links
Community content is available under
CC-BY-SA
unless otherwise noted.