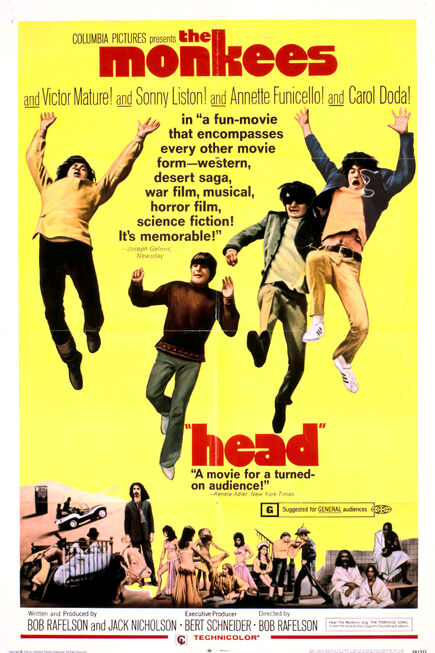 Head is a 1968 American satirical musical adventure film written and produced by Jack Nicholson and Bob Rafelson, directed by Rafelson, starring television rock group the Monkees (Davy Jones, Peter Tork, Micky Dolenz and Michael Nesmith) and distributed by Columbia Pictures.
During production, one of the working titles for the film was Changes, which was later the name of an album by the Monkees. Another working title was Untitled. A rough cut of the film was previewed for audiences in Los Angeles in the summer of 1968 under the title Movee Untitled.
The film featured Victor Mature as "The Big Victor" and cameo appearances by Nicholson, Teri Garr, Carol Doda, Annette Funicello, Frank Zappa, Sonny Liston, Timothy Carey, Percy Helton and Ray Nitschke. Also appearing on screen in brief non-speaking parts are Dennis Hopper and film choreographer Toni Basil.
Storyline
Running in from seemingly nowhere, Micky Dolenz, Davy Jones, Michael Nesmith & Peter Tork - better known collectively as The Monkees - disrupt a bridge opening ceremony. From where and why did they come to disrupt the proceedings? They were filming a series of vignettes in several different genres, including a wild west sequence, a desert war sequence, a Confederate war sequence, and a science fiction sequence. They disagree with much of what is happening around them, and try to figure out how to escape the oppression they feel - symbolized by a big black box in which they are seemingly imprisoned - by the forces around. That oppression is often shown in the form of "The Big Victor Mature"
Sound Effects Used
Image Gallery
Audio Samples