Godzilla roar is a sound effect from TV shows, movies, and others.
Godzilla's roar is a famous sound effect. Over the years, it has changed considerably, sounding different almost every time and having many variations for the different emotions.
The sound effects team originally tried to create Godzilla's roar by using animal roars that had been edited. They sampled all kinds of birds and mammals, but nothing seemed to be the right match for the reptile-like noises a monster like Godzilla would make. Akira Ifukube, who was the film's composer, proposed stepping away from using animal samples. He took a string off of his contrabass and rubbed it with gloves soaked in pine tar. The sound that came from it was used as Godzilla's roar. This roar would later be altered for use as the roar of other monsters in the Showa Era, including Varan, Baragon and Gorosaurus.
Godzilla's roar can be written in readable characters and has been done so in comics, and not only by a simple "roar." In Japanese, the official onomatopoeia for Godzilla's roar is "Gyaoon" (ギャオーン Gyaōn)--additional "o"s can be added to extend the roar.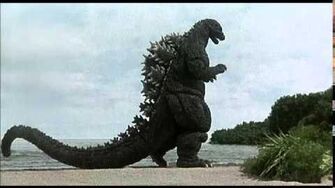 Used In
TV Shows
Animaniacs (Heard once in "Disasterpiece Theatre".)
The Avengers: Earth's Mightiest Heroes (Grunt only)
Baby Looney Tunes (Heard once in "Clues Encounters of the Tweety Kind")
Bunnicula (Heard once in "Bunzilla.")
Camp Lazlo (Heard once in "Snake Eyes" and "Creepy Crawly Campy".)
Catscratch (Heard once in "The King of All Root Beer".)
Danny Phantom (Used for Princess Dorathea and her evil brother Prince Aragon when they turn into their Dragon forms, the Giant Iguana, Giant ghost toy dinosaur and the space shuttle that came to life when the gem of life is inside it.)
Drawn Together ("Heard often in "Super Nanny".)
The Fairly OddParents (Heard once in "This Is Your Wish".)
Family Guy (Heard once in "The Peanut Butter Kid".)
Go! Godman (Tsunojiras) (However, it is a modified Zambolar roar)
The Grim Adventures of Billy and Mandy (Heard once in "Giant Billy and Mandy All Out Attack" and "The Incredible Shrinking Mandy".)
Malcolm in the Middle (Heard once in "High School Play".)
Mickey Mouse (Heard twice in "Wonders of the Deep" and "Roll 'em".)
Mirai Sentai Timeranger
Muppets Tonight (Heard once in "Heather Locklear".)
My Life as a Teenage Robot (Heard once in "Around The World In 80 Pieces".)
The PJs ("Heard often in "Rich Man, Porn Man".)
Redman (Used for the 2 monsters Arstron/Earthtron & Black King)
Regular Show (Heard once in "Exit 9B".)
Rugrats (Heard once in "Visiting Aunt Miriam".)
The Simpsons (Heard in the episodes "

Treehouse of Horror VI",

"30 Minutes Over Tokyo",

"Simpsons Tall Tales", "Apocalypse Cow", "Wedding for Disaster", "Treehouse of Horror XXIV" and "Treehouse of Horror XXV".)

South Park (Heard once in "Mecha-Streisand".)
SpongeBob SquarePants (Heard once in "Factory Fresh".)
Star Trek: The Animated Series (Heard once in "Yesteryear".)
Teen Titans (Heard once in "Masks".)
Time Squad (Heard once in "Kubla Khan't".)
Transformers Prime (Heard once in "Operation: Breakdown".)
Ultra Galaxy: Never Ending Odyssey (EX Red King)
Ultra Q (Used as Gorgos and Peguila's Roar.)
Ultraman (Used as Bemular, Jirass, Red King & Zambolar's Roar.)
Ultraseven (Heard in Dan's flashbacks, while Agira has a sped up Zambolar roar)
Zone Fighter (Only when Godzilla appears in 4 episodes)
TV Specials
Attack Of The 50 Ft. Monster Mania (Used for Godzilla.)
Movies
All Monsters Attack (1969)
Always Sunset On Third Street 2 (2007)
Daigoro Vs. Goliath (1972) (Daigoro's Mother) (Same as Tsunojiras' roar)
Destroy All Monsters (1968)
Ebirah Horror Of The Deep (1966)
Frankenstein Conquers the World (1965) (Baragon)
Ghidorah The Three Headed Monster (1964)
Godzilla (1954) (Debut)
Godzilla Against Mechagodzilla (2002)
Godzilla: City On The Edge Of Battle (2018)
Godzilla: Final Wars (2004)
Godzilla: King of the Monsters (2019)
Godzilla, Mothra and King Ghidorah: Giant Monsters All-Out Attack (2001)
Godzilla: The Planet Eater (2018)
Godzilla: Planet of the Monsters (2017)
Godzilla Raids Again (1955)
Godzilla Tokyo S.O.S (2003)
Godzilla Vs. Biollante (1989)
Godzilla Vs. Destoroyah (1995)
Godzilla Vs. Gigan (1972)
Godzilla Vs. Hedorah (1971)
Godzilla Vs. King Ghidorah (1991)
Godzilla Vs. Mechagodzilla (1974)
Godzilla Vs. Mechagodzilla 2 (1993)
Godzilla Vs. Megaguirus (2000)
Godzilla Vs. Megalon (1973)
Godzilla Vs. Mothra (1992)
Godzilla Vs. SpaceGodzilla (1994)
Hercules (1958)
Invasion Of The Astro Monster (1965)
King Kong Escapes (1967) (Gorosaurus)
King Kong Vs. Godzilla (1962)
Kong: Skull Island (2017) (Heard once in the end of the post credits scene)
The Magic Serpent (1966) (Used as the Dragon's roar; US version only.)
Mothra Vs. Godzilla (1964)
Over Her Dead Body (2008) (Used as Gorgo's Roar.)
The Last Dinosaur (1977) (T-Rex)
The Return of Godzilla (1984)
Shin Godzilla (2016)
Son of Godzilla (1967)
Terror of Mechagodzilla (1975)
Varan the Unbelievable (1958)
Shorts
Commercials
Doritos
Dr. Pepper
Imodium
Snickers
Yellow Tail
Video Games
Arcade:
Online:
Castle Cat (1984-1991 version used in a sped up variant for the megadragon end boss when it breathes fire.)
Sega Genesis:
Mighty Morphin Power Rangers (Video Game) (Heard with sped up variants.)
Super Nintendo:
Panel de Pon (Use for the Dragon boss in a higher pitch.)
Super Godzilla
Sega CD:
Xbox and PlayStation 2:
Godzilla: Destroy All Monsters Melee
Godzilla: Save the Earth
Godzilla: Unleashed
Nintendo Wii:
Nintendo DS:
Godzilla Unleashed Double Smash
Sega Dreamcast:
Godzilla Generations
Godzilla Generations: Maximum Impact
TurboDuo:
PC:
Godzilla Daikaiju Battle Royale
Godzilla Movie Studio Tour (Windows 95)
M.U.G.E.N (Only when Godzilla is in it)
Godzilla: Crisis Defense
Super Famicom:
Godzilla: Monster War
Panel de Pon (Used for a Dragon but high pitched speed.)
Game Boy Advance:
Playstation:
Game Boy Color:
Godzilla: The Series - Monster Wars
Sega Pico:
Godzilla: Heart Pounding Monster Island
Android:
Godzilla Defense Force (Heard when Godzilla arrives)
Godzilla: Kaiju Collection
Godzilla: Strike Zone
Godzilla Smash3
PlayStation 3 and 4:
City Shrounded By in Shadow (Only in the Godzilla area)
Godzilla (PS3 & PS4)
Music Videos
Jamiroquai
Jimmy Page
Puff Daddy
Rage Against The Machine
The Wallflowers
Promos
Bumpers
Logos
Bandai Home Video (1995-2000's) (Logos)
Best Brains Productions - Godzilla vs Megalon (1990-1999) (Logos)
Trailers
Other Media
Bandai
Dinosaur Toys
Trendmasters
Websites
Brainpop Tim and Moby Video Series
Carzillo 2: The Return
Toho Kingdom
Wikizilla.org
YouTube
YouTube Videos
Alexthehunted
Best Pals Hand Toons (Heard once in "Tyrannosaurus Todd")
Bigjackfilms
Brandon Tenold
Chemistryguy
Colton West
Deadzilla
Decker Shado
Dragon Tales Parody Videos (Heard once in "Emmy and Cassie Have a Fight".)
Gagfilms
Goji73
Gojifan1993
KaijuNoir
Kaiju No Kami
Logan Romero
Lord Byakko
Michael Dower
UltramanCronos
WatchMojo.com
Wikizilla
Anime
Brave Leader Daimos
Brave Raideen
Invincible Superman Zambot 3
Mazinger Z
Osomatsu-kun (1988)
Pokémon (Used for cries/voice in legendary Pokémon such as Kyogre. Also heard once in the Japanese version of "Ditto's Mysterious Mansion".)
Samurai Pizza Cats (Heard in the original Japanese version of Episode 17.)
Shinzo
Super Electromagnetic Robot Combattler V
Time Bokan (Heard once in episode 1.)
Image Gallery
Audio Samples
External Links
Community content is available under
CC-BY-SA
unless otherwise noted.