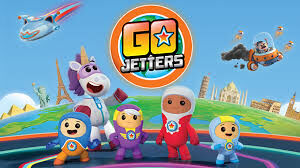 Go Jetters is a 3D animated British children's television series currently airing on CBeebies.
Storyline
Each episode is built on a similar structure, as follows: Aboard their Jet Pad, the Go Jetters are heading to a new place to discover a new landmark. On the way, Ubercorn gives them his top 3 "funky facts" on the place they are going to visit.
Once there, they discover the landmark being "glitched" (altered in some way) by Grandmaster Glitch and his grimbots, which usually involves destroying or using a landmark to achieve his plans. He has a large moustache, used as his trademark, and funnel-like pieces on his helmet. He calls the Go Jetters "No-Jetters" and his catchphrase is "Grimbles!". He goes around in the Grim HQ , a big rusty ship, and has a teddy bear called Cuddles.
The Go Jetters have the mission to save the landmark. They ask Ubercorn for some "Click-ons" (gadgets) to help them in their task. The landmark is saved, and the Go Jetters take a selfie as a souvenir.
TV Show Intro
Sound Effects Used
Image Gallery
Audio Samples