Obi-Wan Finale - The Loop
Play Sound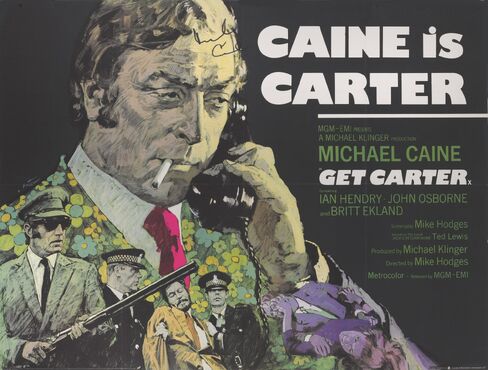 Get Carter is a 1971 British crime film written and directed by Mike Hodges in his directorial debut and starring Michael Caine, Ian Hendry, John Osborne, Britt Ekland and Bryan Mosley. Based on Ted Lewis' 1970 novel Jack's Return Home, the film follows the eponymous Jack Carter (Caine), a London gangster who returns to his hometown in North East England to learn about his brother's supposedly accidental death. Suspecting foul play, and with vengeance on his mind, he investigates and interrogates, regaining a feel for the city and its hardened-criminal element.
Producer Michael Klinger optioned Lewis' novel shortly after its publication and made a deal with the ailing Metro-Goldwyn-Mayer (MGM) to finance and release the film, making Get Carter the last project to be approved by the studio's Borehamwood division before its closure. The production went from novel to finished film in eight months, with principal photography taking place from July to September of 1970 in and around Newcastle upon Tyne, Gateshead and County Durham. Hodges, Klinger and Caine intended to create a more realistic portrayal of violence and criminal behaviour than had previously been seen in British films: Caine, who also served as an uncredited co-producer, incorporated aspects of criminal acquaintances into his characterisation of Carter, while Hodges conducted research into the criminal underworld of Newcastle (in particular the one-armed bandit murder). Cinematographer Wolfgang Suschitzky also worked with Hodges to give scenes a naturalistic feel, drawing heavily on their backgrounds in documentary films.
Get Carter turned a respectable profit upon its initial UK release. It attracted mixed reviews, with critics begrudgingly appreciating the film's technical achievements while criticizing the complex plot, violence and amorality, in particular Carter's apparent lack of remorse at his actions. American critics were generally more enthusiastic, but the film languished on the drive-in circuit, while MGM focused its resources on producing Hit Man, a blaxploitation-themed adaptation of the novel.
Following its 1993 home video release, Get Carter garnered a cult following. Further endorsements from directors such as Quentin Tarantino and Guy Ritchie led to the film being critically re-evaluated, with its depiction of class structure and life in 1970s Britain and Roy Budd's minimalist jazz score receiving considerable praise. In 1999, Get Carter was ranked 16th on the BFI Top 100 British films of the 20th century; five years later, a survey of British film critics in Total Film magazine chose it as the greatest British film. A poorly-received remake under the same title was released in 2000, with Sylvester Stallone portraying Jack Carter and Caine in a supporting role.
Storyline
When his brother dies under mysterious circumstances in a car accident, London gangster Jack Carter travels to Newcastle to investigate.
Sound Effects Used
Image Gallery
Audio Samples