Jurassic World: Dominion Dominates Fandom Wikis - The Loop
Play Sound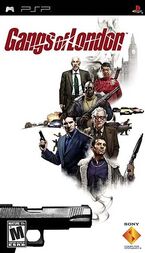 Gangs of London is an action-adventure open world video game released in 2006 for Sony's PlayStation Portable console. It was developed by SCE London Studio and published by Sony Computer Entertainment.
Also See
The Getaway: Black Monday (2004)
Storyline
In 1995, Asif Rashid started to organize the Talwar Sword Brothers (TSB) and they began working in the local vice scene. Asif's leadership led to the acquisition of numerous properties around the area. The gang expanded and is now a dominant force in London organized crime. The Talwar Brothers are a young, confident, and dangerous group. They lovingly modify all their cars to the same high specifications. Some say they love their cars even more than a good fight. The Talwar Sword gang is a newcomer to the London gang scene, but it is quickly making its mark. Their rivals may soon find that London's underworld belongs in the hands of a new younger generation.
STARTING TERRITORY: Goodge (HQ), Marylebone, Wigmore, St. Pancras and Bloomsbury.
Formed in Hong Kong, more than 50 years ago, the Water Dragon Triad is one of the most powerful Asian gangs operating in the UK. San Cho Yang eventually rose to leadership of the London enclave. Since then, he has expanded their operations in every direction, from human trafficking to extortion. Anyone who crossed them was punished without mercy. The citizens of London know better than speak of the Water Dragon Triad. Covered by a strict code of loyalty, they have been untouchable by London authorities and are feared throughout the city.
STARTING TERRITORY: Mayfair (HQ), Hyde Park, Buckingham Palace, Bond Street and Green Park.
Vladislav Zakharov was one of the "Thieves in Law" in what is commonly referred to as the Russian Mafiya. Posing as an international entrepreneur, he was able to build up a profitable, legitimate shipping business in the UK. Vladislav then encouraged other Russians to come to London, where they assisted in the formation of the criminal side of his organization. A military-style operation combining the latest technology with old-style ruthlessness, the Zakharov Organization benefit from access to high-tech weaponry. The members of this organization follow orders with a fierce determination and an unquestioning obedience to their superiors. Armed with the latest weaponry, they are merciless in taking over London.
STARTING TERRITORY: Parliament (HQ), Westminster, St. James Park, Waterloo and Vauxhall Bridge.
Run by an angling old-school cockney gangster, the Morris Kane Firm is a tough, well-respected gang of hardened cockney criminals. The Firm was formed in the early 1970s and has had mixed success ever since, with most members having spent time behind bars. Protection rackets and armed robberies were the backbone of the gang's income for many years, but changing times have forced them to expand their interests into other, more lucrative areas. Some say they are past their time, but there isn't much they don't know about organized crime. Even though they are in their 30s and 40s, these boys still terrify Londoners, and with very good reason.
STARTING TERRITORY: London Bridge (HQ), Bank, Tower Bridge, Borough and Southwark.
One of a number of Yardie gangs at large in London. Mainly of Jamaican origin, members are fearless and demand respect. 30-years-old Mason Grant came over to the UK for a "holiday" over 10 years ago and soon realized there was a lot of money to be made outside the law. He assembled a formidable gang, and the Crew soon earned a reputation for violent retaliation, which encouraged rival gangsters to keep their distance. Hard as nails, and completely fearless, the EC2 Crew are quick to gain respect and quicker to repay the lack of it.
STARTING TERRITORY: St. Luke's, Barbican, Broadgate, Finsbury and Clerkenwell.
Sound Effects Used
Sound Ideas, EXTERIOR SHOTS, AUTO WEAPONS - AK-47 01
Hollywoodedge, Cats Fighting Loud Sc PE917007/Hollywoodedge, Cats Two Angry YowlsD PE022601
Hollywoodedge, Lincoln Town Car In Sk PE073501
Audio Samples
External Links