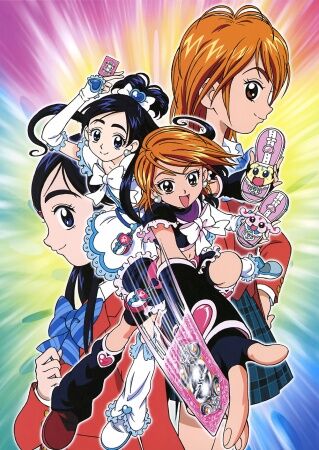 Storyline
Futari wa Pretty Cure revolves around two girls, Nagisa Misumi and Honoka Yukishiro, who encounter the Garden of Light's Mipple and Mepple, who give them the power to transform into the emissaries of light; Cure Black and Cure White, to fight against the forces of the Dark Zone: a dimension of evil that has encroached on the Garden of Light and is now about to do the same to the Garden of Rainbows, Earth. The Cures search for the Prism Stones, placing them in a heart-shaped device known as the Prism Hopish, protected by the Guardian, Wisdom. Once they have discovered all the Prism Stones, its power takes them to the Garden of Light and repairs most of the damage done by the Dark Zone. Later in the series, Porun, the Prince of the Garden of Light, grants the Pretty Cure duo use of their Rainbow Bracelets as they defeat the Dark King.
In Max Heart, Nagisa and Honoka meet the mysterious Hikari Kujou, who is soon revealed to be the "Life" of the Queen, whose powers were scattered into the form of twelve "Heartiels" following her battle with the Dark King. Meanwhile, remnants of the Dark Zone are protecting a mysterious boy, who is suspected of being the "Life" of the Dark King. Joined by Hikari, who gains the power to become Shiny Luminous, the Pretty Cures once again fight against the Dark Zone in order to retrieve the Heartiels and restore the Queen.
Air Date
February 1, 2004 – January 30, 2005
Also See
Sound Effects Used
Image Gallery
Futari wa Pretty Cure/Image Gallery
Audio Samples
External Links
Community content is available under
CC-BY-SA
unless otherwise noted.