Jurassic World: Dominion Dominates Fandom Wikis - The Loop
Play Sound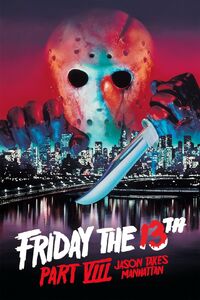 Friday the 13th Part VIII: Jason Takes Manhattan is a 1989 American slasher film written and directed by Rob Hedden, and starring Jensen Daggett, Scott Reeves, Peter Mark Richman, and Kane Hodder as Jason Voorhees, reprising his role from Friday the 13th Part VII: The New Blood (1988). The eighth installment in the Friday the 13th film series, it follows Jason as he stalks a group of high school graduates on a ship en route to New York City. It was the final film in the series to be distributed by Paramount Pictures in the United States until 2009, with the subsequent installments being distributed by New Line Cinema.
The film, like several of its predecessors, was intended to be the final entry in the series. Filming took place primarily in Vancouver, British Columbia, with additional photography in New York's Times Square and in Los Angeles. At the time of its production, Jason Takes Manhattan was the most expensive film in the series, with a budget of over $5 million. It received substantial attention for its initial marketing campaign, featuring Jason Voorhees slashing through the "I Love New York" logo with a knife, which was later retracted after the New York City Tourism committee filed a complaint against Paramount Pictures.
Released on July 28, 1989, Jason Takes Manhattan grossed $14.3 million at the domestic box office, making it the poorest-performing film in the Friday the 13th series to date. The film received overwhelmingly negative reviews for what critics saw as weak humor, unintelligent plotting, and a failure to effectively deliver on the promise of its subtitle. It was followed by Jason Goes to Hell: The Final Friday (1993).
Storyline
Mass murderer Jason Voorhees (Kane Hodder) is resurrected from the bottom of Crystal Lake. After he kills a passing boat's occupants, he stows away on a cruise ship filled with a high-school graduating class bound for New York City. Biology teacher Charles McCulloch (Peter Mark Richman) is on board with his niece, Rennie (Jensen Daggett), who has visions of Jason drowning as a child. They escape his bloody shipboard rampage, but, when Rennie and Charles reach Manhattan, Jason is close by.
Also See
Sound Effects Used
Original Mix
Remastered Mix
Image Gallery
Audio Samples
SKYWALKER, FIRE - FLAMES QUICK ROAR BY 02 as heard in the remastered mix of the film.
External Links