Welcome to my WGL Gaming RAGE Thread. Inspired by Hotheart123's Touhou RAGE Thread. Because I'll go ahead and talk about my favorite video games all I want here. WhitneyGoLucky2003 (talk) 1:47, February 26, 2020 (UTC)
Mr. Driller
I was so close to 5000ft in Mr. Driller 2 (GBA) while I was playing it on my Wii U, but I was still close to it and I GOT CRUSHED BY THE BLOCKS AGAIN MAKING ME HAVE TO START OVER!!!! Susumu Hori is gonna still make it! WhitneyGoLucky2003 (talk) 1:57, February 26, 2020 (UTC)
Skylanders
So, tried Snap Shot with Kaos....

AHAHAHAHAHAHAS OH GOSH I'M SO VERY GOOD AT SKYLANDERS TRAP TEAM THAT'S WHY I DIED ON THE CHAPTERS OF ALL MOTHERFREAKING PEOPLE THAT'S SO FUNNY ZUN BEST JOKE EVER I FREAKING LOVE YOU MAN YOU MAKE THE BEST GAMES EVER THAT TOTALLY DON'T TICK THOUSANDS OF PEOPLE OFF AND MAKE THEM SLAP THEMSELVES AND NEARLY STAB THEMSELVES IN THE CHEEK WITH A SWITCHBLADE KNIFE OUT OF FRUSTRATION (NO I'M NOT TAKING A FREAKING BREAK NOT UNTIL I CAN GET A GOOD LUNATIC AVERAGE ON EVERY GAME IN THE CHAPTERS FROM TWO TO TWELVE) AND PUNCH THEMSELVES IN THE KNEES AND CLAW THEIR PALMS (WHICH I JUST FREAKING DID) (SERIOUSLY I FREAKING Did AND MY HANDs STILL LOOK THEY'RE SUNBURNT TO PROVE MY POINT)

CURSE YOU GULPER
CURSE YOU BAD JUJU (I only like her when she's a sensei in Skylanders Imaginators.)
CURSE YOU BROCCOLI GUY
CURSE YOU RAGE MAGE
CURSE YOU GRAVE CLOBBER (I only like him in Skylanders Imaginators as a sensei.)
CURSE YOU DREAMCATCHER (ESPECIALLY YOUR STUPID FREAKING CRAP OF A SISTER) CURSE YOU BRUISER CRUISER AND SHREDNAUGHT EVEN THOUGH I HAVEN'T FREAKING REACHED EITHER OF YOU YET, AND...

CURSE YOU
YOU
CUCKOO CLOCKER

Chompy Mage, you're okay. I don't hate YOU. (I only like Chompy Mage in Skylanders Imaginators.)
Chef Pepper Jack, go curse yourself.
Nightshade, do what Chef Pepper Jack does.
Luminous, do what Nightshade and Chef Pepper Jack do.
Blaster-Tron, get another life to recollect your laser sword and see just how miserable you make me. (I only like Blaster-Tron as a sensei in Skylanders Imaginators.)
Brawlrus, YOU get killed.
Brawl and Chain, nobody cares about your freaking chains.
Smoke Scream, stop getting your freaking flamethrowers to kill my Skylanders and do something freaking original.
Hood Sickle, I don't like your boss fight but your awesome music is enough to make me palate you slightly. Go curse yourself with your own freaking requests and you'll see how I feel. (I only like Hood Sickle in Skylanders Imaginators.)
Pain-Yatta, why do you even freaking exist? Is it just so that fans don't cringe at Echo because "AHHHH TELESCOPE TOWERS'S TOO FREAKING SHORT AAAAAAAAAAAAAAAA"? (I only like Pain-Yatta in Skylanders Imaginators.)
Golden Queen, SERIOUSLY. GO CURSE YOURSELF. I HATE YOU MORE THAN THE OTHER CHEF PEPPER JACK AND DR. KRANKCASE BECAUSE AT LEAST THEY ARE KIND ENOUGH TO AT LEAST GIVE ME SOMEWHAT OF A CHANCE TO REACH THE DARN FINAL BOSS I FREAKING HATE YOU GO CURSE YOURSELF I HATE YOU I HOPE YOU DIE IN A FIRE sorry sorry (I only like Golden Queen in the Skylanders Imaginators version.)
Dr. Krankcase, you're awesome as a Sensei in Skylanders Imaginators. I don't mind your onslaught of bullet h*** because your music makes up for it and your boss music sounds a lot like Baikinman's song "Ikuzo! Baikinman". Go curse yourself.
Wolfgang, I hate your heavy metal music and that's enough to make me hate you, your gosh darn teaming up doesn't freaking help your cause. But I still like you when you're a sensei in Skylanders Imaginators
Chill Bill, I FREAKING HATE THOSE TROLL RADIOS. GO CURSE YOURSELF WITH YOUR OWN TROLL RADIO REPORTING AND YOUR FREEZING WEAPON TOO
Kaos, go curse yourself. I freaking hate how you give us an infinite bomb system and an easy freaking game.

AAAAAAAAAAAAAAAAAAAAAAAAAAAAAAAAAAAAAAAAAAAAAAAAAAAAAAAAAAAAAAAAAAAAAAAAAAAAAAAAAAAAAAAAAAAAAAAAAAAAAAAAAAAAAA

I apologize if this wall of text has offended you with its oversaturated use of the word "curse" and "freaking" in all capital letters. I hope that at the very least that my anger made you laugh. Now that my anger is all done, time to get jiggy with other garbage that DOESN'T FREAKING DEVASTATE ME! WhitneyGoLucky2003 (talk) 9:22, February 28, 2020 (UTC)
Cuphead
Bendy and the Ink Machine
Just Shapes & Beats
I remember back in November 2019 when we were all on the level: Termination Shock. We all tried to beat the level! OUT OF ALL THE HARD LEVELS!!!!!!!!! But thank goodness we beated that level.
I am gonna beat the Final Boss and (It's a secret!) tomorrow while me and my friend Marlie are playing it. WhitneyGoLucky2003 (talk) 1:57, February 26, 2020 (UTC)
Okay. yesterday, we died 2 times in the Pre-Boss level: Final Boss. This was our 3rd chance to beat it! So Marlie finally finished off the pre-boss level! Thank gosh! I'm ready for YOU KNOW WHAT! (It's a secret!) WhitneyGoLucky2003 (talk) 8:39, February 28, 2020 (UTC)

Okay! We are on Annihilate! We have tried out 3 times right until the bell rang for 6th period. After 3 deaths in this final boss, IT IS TERRIBLE TO SEE FRESH'S FINAL FORM!!!!!! WE HAVE FAILED THREE TIMES IN A ROW ON THIS FINALE!!!! ANNIHILATE'S GONNA BE WROSE THAN TERMINATION SHOCK!!! HOLY CRAP! WhitneyGoLucky (talk) 1:15, March 1, 2020 (UTC)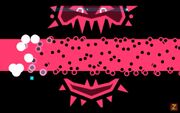 NO FREAKING WAY IN THE 7TH LAYER OF DOOM! WE KEPT BEATING THE FINALE: ANNIHILATE!!! WE KEPT DYING MULTIPLE TIMES!! This happened Thursday before I went on my cruise (By the way, it got cancelled.)! FRESH KEEPS EATING PINK DORITOS TOO MUCH! Seriously! WhitneyGoLucky (talk) 9:39, March 7, 2020 (UTC)

Okay! Since my father got Just Shapes & Beats yesterday on my Nintendo Switch Lite, So I got very good from Tutorial to Industry! But yesterday I did perfect on Termination Shock, but I died twice in Lycanthropy. But I finally beated Close To Me (You know the boss level where Cuba gets corrupted), Now I am at the tower getting ready for the Final Boss and Annihilate. WhitneyGoLucky (talk) 2:51, April 5, 2020 (UTC)

Okay! I am now ready and set for Annihilate! Wish me luck! WhitneyGoLucky (talk) 3:44, April 5, 2020 (UTC)
Baldi's Basics In Education and Learning
Otocadoll
Tomodachi Life
This just happened a year ago! Sumo from Clarence and Kelsey/Glitter Sunny from Smile PreCure/Glitter Force used to be married since 3 years ago, and now they got divorced! I was heartbroken after the divorce. WhitneyGoLucky2003 (talk) 1:57, February 26, 2020 (UTC)
Miitopia
Nintendo Land
Wii Party U
Namco Museum (Nintendo Switch)
Mappy
Runner3
Last week, I kept failing on all of the Impossible Levels, even the Final Boss! OKAY! I KEEP RAGING WHENEVER I KEEP FAILING ON THE IMPOSSIBLE LEVELS! Anyways, I am working on Luciko fails Runner3's Impossible Levels/Breaks Ai's Nintendo Switch/Grounded this month. WhitneyGoLucky (talk) 2:47, April 5, 2020 (UTC)
DanceDanceRevolution
Pop 'n Music
Puyo Puyo
Dr. Robotnik's Mean Bean Machine
Nicole's Section
I'm adding this just to say: I'm NEVER beating Mario & Luigi: Dream Team, and it's all thanks to that stupid Big Massif boss. He keeps sending more and more of his minions to do OP attacks, and the more I kill, the more he sends. No matter how hard I try, the end result is ALWAYS a Game Over. I really don't want to have to use Easy Mode, but I'm starting to think I have no choice.  Hotheart123 (talk) 02:29, June 7, 2020 (UTC) That's it, I've had it with Dream Team for today. Big Massif is too freaking difficult, and this is just getting tedious at this point. Whoever programmed his battle is an absolute sadist. Hotheart123 (talk) 03:09, June 7, 2020 (UTC)
That does it, I'm entering Easy Mode. I really didn't want to have to do this, but this stupid boss leaves me no choice. I've probably spent at least 30-40% of my game time now trying to beat him. It's too freaking difficult. No more Mr. Nice Guy. Hotheart123 (talk) 16:52, June 7, 2020 (UTC)
Right when this Giant Boss was almost dead, he proceeded to drain my healh with a lava attack. FUDSKJJJFAGVGDR Hotheart123 (talk) 00:01, June 8, 2020 (UTC)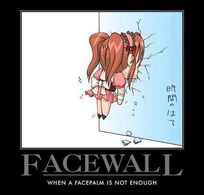 I'm done with Dream Team. Dreamy Bowser is too f***ing difficult, and when I do manage to make it to Repel the Shell, the gyroscope controls f*ck it all up and I lose for what feels like the 50th time. I'm never beating this stupid game. I'm done. I'm done. I'm done. I'm done. I'm done. I'm done. I'm done. I'm done. I'm done. I'm done. I'm done. I'm done. I'm done. I'm done. I'm done. I'm done. Hotheart123 (talk) 02:30, June 12, 2020 (UTC)
Reporting back. After some Smart Thinking™, I did it. Hotheart123 (talk) 16:45, June 12, 2020 (UTC)
Community content is available under
CC-BY-SA
unless otherwise noted.