Go ahead and talk about Touhou all you want here, Nicole. General Maho (talk) 04:01, December 23, 2018 (UTC)
Nice, Ross. Here is the HH123 Touhou RAGE Thread. Hotheart123 (talk) 04:16, December 23, 2018 (UTC) Nicole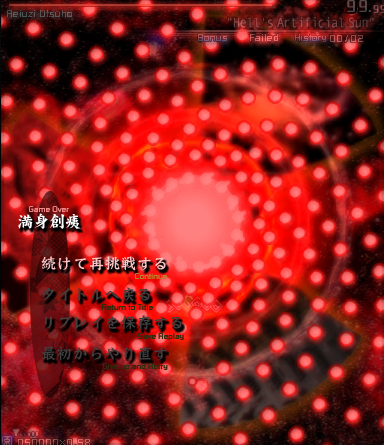 ....
This was the FINAL attack. This is all I needed to do in order to one credit clear this God-forsaken game...
R"PIGN@E$PIGHB"AEYPGHJ@elfp'werhg;lpfrhjgioprwhjoiewhiofhwenuifhswi9gfthwesi9hfe9hfr98eyfuiosh8904hgidh78ehouichc89ashfuiashenvh8dhtuierhvjuswne4i3cfhsdvfhs nb9hvoiasifvy98wevbhievhde8vhndxcu9hfv8c9hrfherdwhbvdfjuvhiwsudhvfqiwuechudqhgfv8iewghu9rebhiruwehg3wei7htg
WHY UTSUHO WHY I WAS ACTUALLY DOING FUCKING GOOD AND YOU FUCKING FUCKED ME OVER I THOUGHT I'D ACTUALLY FUCKING WIN BUT NOPE FUCKING NOPE I FUCKING DIED TWICE ON ONE DAMN SPELL CARD WITH ORIN, BUT I MADE PAST HER BUT FUCK NO LET'S NEVER LET NICOLE BE HAPPY AT ALL WITH HOW SHE LIVES AND HOW SHE ACTS AND HOW SHE'S AN ANTI-SOCIAL PRICK AT SCHOOL WITH NO FRIENDS AND TO TELL THE TRUTH THIS GAME SERIES IS ONE OF THE ONLY THINGS SHE HAS TO DEPEND ON FOR SATISFACTION BEING THE ONLY FUCKING REASON THAT SHE EVEN TRIES AT SCHOOL JUST SO HE CAN KEEP HER DAMN COMPUTER
FUCK. I FUCKING HATE YOU UTSUHO. YOU ARE AN ASSHOLE BEYOND ALL REASON. I HAD THREE FUCKING LIVES AND POWER-BASED BOMBS AND YOU MADE ME DIE ALL THREE TIMES BY YOUR BIG ASS MICRODODGING DANMAKU, AND I USED ALL OF MY FUCKING BOMBS TRYING TO SAVE MYSELF FROM YOUR STUPIDSPELLS WHERE YOU FLING BULLET WALLS AT ME AND NOTHING MORE THAN THAT AND THE NONSPELLS BEING THE ONE WHERE YOU FUCKING DASH ACROSS THE FUCKING ROOM AND MAKE ME WANT TO PUNCH THE SHIT OUT OF YOU FOR MAKING ME SQUEEZE INTO TINY GAPS
AND ORIN I FUCKING HATE YOU TOO YOU HAVE CAUSED MORE PAIN THAN UTSUHO HAS BUT UTSUHO CAUSES IT MORE OFTEN. I WANT TO FUCKING DOUSE YOU IN WATER AND TIE YOU TO THE GROUND AND DANGLE FUCKING CATNIP ABOVE YOU JUST TO TORMENT YOU FOR ANOTHER TEN THOUSAND FUCKING YEARS AND THEN STAB YOU SLOWLY AND GENTLY JUST TO CAUSE YOU PAIN, BARELY PENETRATING THE SKIN AND CUTTING AND CUTTING AT YOU SLOWLY UNTIL YOU FUCKING BLEED TO DEATH, TAKING ABSOLUTE PLEASURE FROM EVERY CRY OF PAIN YOU LET OUT AND SIMPLY LAUGHING AT YOU.
I WANT YOU FUCKING DEADDDDDDDDDDDDDDDDDDDDDDDDDDDDDDDDDDDDDDDDDDDDDDDDDDDDDDDDDDDDDDDDHHHHHHHHHHHHHHHHHHHHHHHHHHHHHHHHHHHHHHHHHHHHHHHHHHHHHHHHHH
AAAAAAAAAAAAAAAAAAAAAAAAAAAAAAAAAAAAAAAAAAAAAAAAAAAAAAAAAAAAAAAAAAAAAAAAAAAAAAAAAAAAAAAAAAAAAAAAAAAAAAAAAAAAAAAAAAAAAAAAAAAAAAAAAAAAAAAAAAAAAAAAAAAAAAAAAA
YES I'M A FUCKING SADIST DO YOU HAVE A FUCKING PROBLEM WITH THAT TRENT I'M MORE OF A SADIST THAN YOU COULD EVER EVEN ATTEMPT TO BE
NQAIGHIWE$HGPIREWHGIPEHGLIWEJGHOPIRGJRGRIGHIPOERGUIOPRJGTIPEROHJGPIOEHGHJGOPEGHLKXDHO*ER$GHKDLHOPE$HTLEHGP(OEYGKLWEHGTIOP
AND ABOUT YOU, SATORI
I'M GOING TO FUCKING NEUTER YOU AND YOUR FUCKING PETS. THAT INCLUDES ORIN AND UTSUHO.
I HATE YOU TWO POST-PARSEE BOSSES (Yuugi and Satori). YOU FUCKING KILLED ME AND I WAS SANE ENOUGH NOT TO RAGEQUIT BECAUSE I WAS FUCKING TRYING TO 1CC THE DAMN GAME BUT FUCK IT. FUCK SA. FUCK IT. JUST GONNA MOVE UP TO LOLK WITHOUT BEATING IT.
Hotheart123 (talk) 20:40, December 23, 2018 (UTC)
Now that I've TRIED LoLK, I guess I won't be able to 1cc it on Normal. I might as well go back to SA, because this game was absolutely more broken in comparision. Hotheart123 (talk) 22:11, December 23, 2018 (UTC)
So, tried SA with ReimuA....
AHAHAHAHAHAHAS OH GOD I'M SO VERY GOOD AT THESE GAMES THAT'S WHY IDIED ON PARSEE OF ALL MOTHERFUCKING PEOPLE THAT'S SO FUNNY ZUN BEST JOKE EVER I FUCKING LOVE YOU MAN YOU MAKE THE BEST GAMES EVER THAT TOTALLY DON'T PISS THOUSANDS OF PEOPLE OFF AND MAKE THEM SLAP THEMSELVES AND NEARLY STAB THEMSELVES IN THE CHEEK WITH A SWITCHBLADE KNIFE OUT OF FRUSTRATION (NO I'M NOT TAKING A FUCKING BREAK NOT UNTIL I CAN GET A GOOD LUNATIC AVERAGE ON EVERY GAME IN THE SERIES FROM SIX TO THIRTEEN) AND PUNCH THEMSELVES IN THE KNEES AND CLAW THEIR PALMS (WHICH I JUST FUCKING DID) (SERIOUSLY I FUCKING Did AND MY HANDs STILL LOOK THEY'RE SUNBURNT TO PROVE MY POINT)
FUCK YOU GREEN-EYED MONSTER
FUCK YOU YUUGI
FUCK YOU SATORI
FUCK YOU STAGE 5 FAIRIES
FUCK YOU ORIN
FUCK YOU UTSUHO (ESPECIALLY YOUR STUPID FUCKING CAT OF A SISTER) FUCK YOU SANAE AND KOISHI EVEN THOUGH I HAVEN'T FUCKING REACHED EITHER OF YOU YET, AND...
FUCK
YOU
SA
Kisume, you're okay. I don't hate YOU.
Seija, go fuck yourself.
Orin, do what Seija does.
Clownpiece, do what Orin and Seija do.
Satori, get another satori to recollect your god damn spell cards and see just how miserable you make me.
Junko, YOU get killed.
Yoshika, nobody cares about your fucking healing powers.
Seiga, stop getting fucking Yoshika to help you and do something fucking original.
Kaguya, I don't like your boss fight but your awesome music is enough to make me palate you slightly. Go fuck yourself with your own fucking requests and you'll see how I feel.
TD Yuyuko, why do you even fucking exist? Is it just so that fans don't bitch at ZUN because "AHHHH STAGE 1'S TOO FUCKING SHORT AAAAAAAAAAAAAAAA"?
Orin, SERIOUSLY. GO FUCK YOURSELF. I HATE YOU MORE THAN THE OTHER SEIJA AND CLOWNPIECE BECAUSE AT LEAST THEY ARE KIND ENOUGH TO AT LEAST GIVE ME SOMEWHAT OF A CHANCE TO REACH THE DAMN FINAL BOSS I FUCKING HATE YOU GO FUCK YOURSELF I HATE YOU I HOPE YOU DIE IN A FIRE sorry sorry
Yuugi, you're awesome. I don't mind your onslaught of bullet hell because your music makes up for it. Go fuck yourself.
Mischevious Fairies, I hate fairies and that's enough to make me hate you, your god damn teaming up doesn't fucking help your cause.
Sagume, I FUCKING HATE THOSE YIN YANG ORB ENEMIES. GO FUCK YOURSELF WITH YOUR OWN FUCKING ORBS AND YOUR HAX THIRD SPELL TOO
MoF, go fuck yourself. I fucking hate how you give us an infinite bomb system and an easy fucking game.
AAAAAAAAAAAAAAAAAAAAAAAAAAAAAAAAAAAAAAAAAAAAAAAAAAAAAAAAAAAAAAAAAAAAAAAAAAAAAAAAAAAAAAAAAAAAAAAAAAAAAAAAAAAAAA
I apologize if this wall of text has offended you with its oversaturated use of the word "fuck" in all capital letters. I hope that at the very least that my anger made you laugh. Now that my anger is all done, time to get jiggy with other shit that DOESN'T FUCKING DEVASTATE ME 
Hotheart123 (talk) 23:49, December 23, 2018 (UTC)
God dammit Nicole why did you die to Parsee AND Yuugi on both of these failures of runs? Those were the dumbest deaths you've ever done that registered into a you have failed at this fucking run. Hotheart123 (talk) 16:19, December 24, 2018 (UTC)

Game: OH CRAP!! Nicole's giving me a try again after nearly a month! What am I to do?!...I know! LET'S MAKE NICOLE STUPDILY RUN INTO A LAZER ON STAGE 4, DIE TWICE TO ONE ORIN, AND LOSE HER 1CC RUN BY DYING TWICE ON THE FINAL BOSS' FIRST CARD! WOW, I'M A GENIUS!!!
(Later...)
Me: (rocking back and forth, sobbing with this game over showing on her screen:)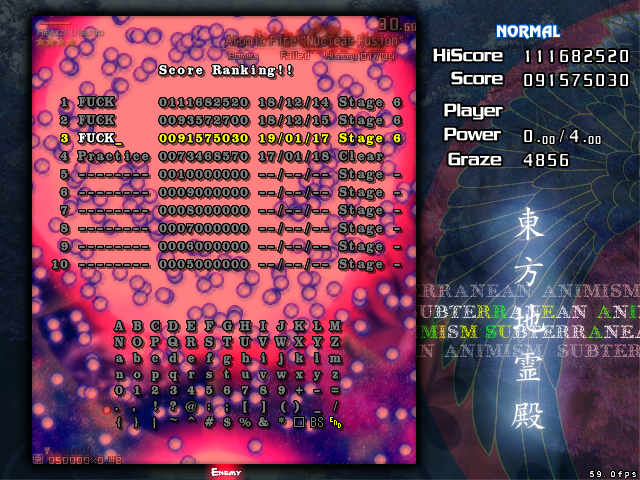 AAAAAAAAAAAAAAAAAAAAAA
I FUCKING HATE YOU UTSUHO WHY DO YOU DO THIS TO ME
If you want to know what the fuck I'm ranting and raving about, I've continued on SUBTERRANEAN FUCKIMISM, which was important because I remembered I still needed to 1cc it.
I fucking hate Orin with a passion. I can take Yuugi, her spells are hard as shit but at least they're manageable. Orin is paired with an annoying-as-fuck stage, and same applies for, say, Satori, but Satori's MarisaC cards are at least FUN and ALL OF THEM ARE DOABLE (SPINNING SPAGHETTI-Os, I'M FUCKING LOOKING AT YOU YOU SON OF A BITCH).
Let me state why I hate every boss from stage 2 to stage 6 in SA
Stage 2~ Parsee Parsee is fine, just her first and third cards on Normal caused me deaths on Stage 2, which is a big no-no in my book. Didn't happen this time.
Stage 3~ Yuugi I hate these cards. The only one I like is her first card because it's artificially the easiest of her cards.
Stage 4 ~ Satori
The MarisaC is the only one I can do. EVERYTHING ELSE IS DICK CHEESE DESIGNED TO DRAIN YOUR BOMBS AND REQUIRES ONE TO BE A TOUHOU EXPERT TO CAPTURE, EVEN ON NORMAL.
Stage 5~ Orin EVERYTHIIIIIIIIIIIIIIIING
Stage 6 ~ Utsuho Reuiji
BIG BAWLS THAT END MY 1CC
i'll try again tomorrow yare yare daze Hotheart123 (talk) 03:06, January 18, 2019 (UTC)

Today I slammed my wrists against one another and ragequitted out of SA for dying THREE FUCKING TIMES TO YUUGI. THREE. MOTHER FUCKING. TIMES.
Fuck you, Yuugi.
Hotheart123 (talk) 15:52, January 19, 2019 (UTC)

Vs. Utsuho, I lost my last life on her FINAL SPELL CARD, the FINALL ATTACK IN THE WHOLE GAME, and f*cking lost my 1cc... Plus I had 3 bombs in stock. And I was trying it as ReimuA, who is considered the greatest shot in the game.
..........
After that happened, I went into the bathroom, cried in the bathtub, attempted to razor my wrist, and when THAT failed, I hit my wrist with a hairbrush and waterboarded myself.
THAT IS HOW F*CKING ANGRY I GOT TODAY.
THAT'S IT. IT'S DECIDED. THIS GAME IS MAKING ME ATTEMPT S U I C I D E.  I'VE ALREADY CLEARED LOLK POINTDEVICE, SO NO NEED TO WORRY ABOUT CLEARING THAT. SO F*CK IT. F*CK SA. I'M MOVING UP TO HARD WITHOUT BEATING IT. I'M NEVER DOING IT ON HARD OR LUNATIC EITHER,. BECAUSE TO TELL THE TRUTH, IT'S ABSOLUTE GARBAGE. ATLEAST LOLK HAD A FEATURE TO FIX THE DIFFICULTY PROBLEMS, THIS HAS NONE.
I WANT TO DO SO MANY THINGS TO UTSUHO THAT WOULD GET ME PERMABANNED FROM THE WIKIA IF I WERE TO SAY THEM. 
Hotheart123
Threatening to fill Utsuho's mouth with toxic liquid until she explodes since December 2018
Hotheart123 (talk) 23:31, January 19, 2019 (UTC)
Now that I'm officially through with Gangrape Animism, time to try MoF Hard since I already 1cc'd IN hard.
(plays game with homing amulet)
(runs into a fairy at the end of stage 2's stage portion)
WHY WOULD YOU, STAGE 2?!
(resets entire 1cc over due to Stage 2 death)
(no misses stage 1)
(has one of my most stupid fairy-hitbox induced deaths)
WHY WOULD YOU, STAGE 2 AMULET FAIRY?!?!??!
Two stupid stage 2 deaths. TWO. FUCKING. STUPID. STAGE. 2. DEATHS.
My arm has a metal-like dent in it from my nail today. I CAN NEVER FUCKING TOUHOU.
I COULD FUCKING 1CC FOR SHIT ON NORMAL EXCEPT SA AND LOLK LEGACY. WHAT HAPPENED TO THAT? HAVE I NOT DEVELOPED HARD MODE SKILLS YET? DO I NEED TO GO BACK TO GANGRAPE FUCKISM?!?!??!
i need a hot cocoa pronto now
Hotheart123 (talk) 02:01, January 21, 2019 (UTC)