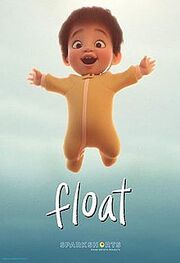 Float is a 2019 American animated short film directed and written by Bobby Rubio, produced by Krissy Cababa and Pixar Animation Studios, and distributed by Walt Disney Studios Motion Pictures.
Storyline
The Father is playing with his Baby son Alex in the front yard of his house. While showing him a dandelion, The Son proceeds to float, surprising Dad. Watchful eyes begin to concern him as he grabs the Son From Drawing On the Ceiling and brings him back inside the house. Now a toddler, Alex continues floating all over the darkened house as Dad has become a hermit with a disheveled appearance. He keeps his son on a leash and stuffs his backpack with rocks to keep him down, though it is later shown to not do much. They leave the house while trying to avoid the neighbors. Meanwhile The Father pauses in front of a playground and watches the other kids play, but turns to see that Alex has escaped and is interacting with the other children by floating, scaring and annoying The People. They Get Irritated and Ignored by the Son, and The Father Cowardly Catches his son onto the Park in Many Basketball Courts he Starts Moving Uncontrollably, who begins to throw a Tantrum, The Father Loses his Temper and Starts Suffering from his Anger and starts Yelling at the Son and utters, "Why Can't You Just be Normal" The Son Slowly Lands himself and looks down sadly. As he looks at all the park attendees, The father picks up his son, cradles him in his arms, and sits down on a swing set. The father begins to swing back and forth, and his son begins to cheer up and smiles. As the other parents and children watch, the father releases his son to float once more, and the two happily play together.
Sound Effects Used
Image Gallery
Audio Samples
External Links
Community content is available under
CC-BY-SA
unless otherwise noted.