The Sandman Will Keep You Awake - The Loop
Play Sound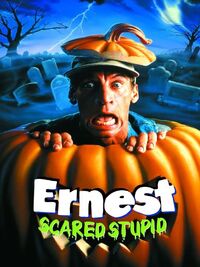 Ernest Scared Stupid is a 1991 American comedy horror film directed by John R. Cherry III and starring Jim Varney. It is the fifth film to feature the character Ernest P. Worrell. In the film, Ernest unwittingly unleashes an evil troll upon a small town on Halloween night and helps the local children fight back. It was shot in Nashville, Tennessee like its predecessors Dr. Otto and the Riddle of the Gloom Beam, Ernest Goes to Camp, Ernest Saves Christmas, and Ernest Goes to Jail.
Due to its modest gross of $14,143,280 at the U.S. box office, Disney did not pick up the option after their initial four-picture deal with Cherry and Varney had run out, therefore making this the fourth and final Ernest film to be released under the Disney label Touchstone Pictures. All future Ernest films were independently produced, and following the financial failure of Ernest Rides Again, the films shifted to a straight-to-video market.
Its opening credits feature a montage of clips from various horror and science fiction films, including Nosferatu (1922), White Zombie (1932), Phantom from Space (1953), The Brain from Planet Arous (1957), The Screaming Skull (1958), Missile to the Moon (1958), The Hideous Sun Demon (1958), The Giant Gila Monster (1959), The Killer Shrews (1959), Battle Beyond the Sun (1959), and The Little Shop of Horrors (1960).
Storyline
Sound Effects Used
Image Gallery
Audio Samples
External Links