Doctor Strange in The Multiverse o Madness - The Loop
Play Sound
Endgame is a 2002 game released exclusively for the PlayStation 2, developed by Cunning Developments and published by Empire Interactive.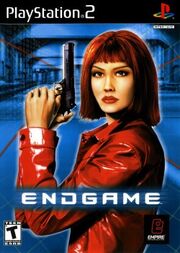 Storyline
From the European back cover: 
Virtual Reality is about to be updated, and there is something seriously wrong. Tyler knew the truth, but EuroDream Techonologies found him. Octavian, an Artificial Intelligence, knows how to stop them, but needs a human. Jade Cornell knows what to do, she's armed and ready...
Sound Effects Used (Main game)
(NOTE: Some sounds are unused.)
DICK DE BENEDICTIS MUSIC (Sampled throughout the main game.)
Sound Ideas, CRASH, DOOR - KICK IN DOOR, BREAK (Heard once in a cutscene.)
Sound Ideas, EXPLOSION - LARGE EXPLOSION 01
Sound Ideas, FALL, BODY - BODY FALL ON FLOOR, HUMAN 02 (Heard once in a cutscene.)
Sound Ideas, FALL, BODY - HEAVY BODY IMPACT, HUMAN, CARTOON 05 
Sound Ideas, TELEPHONE, ELECTRONIC - ELECTRONIC 1: RINGING, OFFICE  (Heard twice in cutscenes.)
Sound Ideas, DOOR, WOOD - OPEN 02
Sound Ideas, DOOR, WOOD - CLOSE 03
Sound Ideas, ELECTRICITY, SPARK - HIGH VOLTAGE SPARK, VERY LARGE, ELECTRICAL (Heard three times in cutscenes.)
Sound Ideas, ELECTRICITY, SPARK - HIGH VOLTAGE SPARK, ELECTRICAL 01 (Heard in a shortened, slightly high pitch in the good ending.)
Sound Ideas, BULLET HITS - BODY HITS LIGHT THUMP
Sound Ideas, BULLET HITS - BODY HITS SUCK
Hollywoodedge, Electricity Arcing 3 PE200301 (Heard once in the good ending.)
Hollywoodedge, Ak47 Automatic Rifle PE093901 (or Hollywoodedge, Ak 47 Multiple Bursts TE028802) [Used for Westermann's shotgun.]
Hollywoodedge, Glass Crash Sustaine PE112901
Hollywoodedge, Bullet Bounces Off Fr PE114801 (Heard alongside Sound Ideas, BULLET HITS - METAL HITS WITH RICO CLANK, Sound Ideas, BULLET HITS - METAL HITS (CAR) THUD WITH CLANG , Sound Ideas, BULLET HITS - METAL HITS CLUNK and Sound Ideas, BULLET HITS - METAL HITS (CAR) THUD WITH RING)
Hollywoodedge, Single Bullet Impact PE236401 (3rd and 6th impacts only.)
Hollywoodedge, Bullet Impact Sweete PE115701 (Heard once in a cutscene.)
Hollywoodedge, Pistol Dry Fire Multi PE091101 (First dry fire click only.)
Hollywoodedge, Whistling Wind Mediu PE032901 (Heard in a low pitch, unused.)
Hollywoodedge, Grenade Launcher PE230301 (Explosions only.)
Hollywoodedge, Bright Grenade ClipP PE409501 (Unused.)
Hollywoodedge, Various Shell Ejects PE407202 (Unused.)
Hollywoodedge, Tear Gas Canister Hit PE409601
Sound Ideas, COMPUTER, BEEP - SINGLE SHORT COMPUTER BLIP, OFFICE, ELECTRONIC
Sound Ideas, SPACE, DOOR - SPACE SHIP DOOR 1, SCI FI
Sound Ideas, SPACE, COMPUTER - SPACE SHIP CONSOLE: BEEP, ELECTRONIC, SCI FI 02
Sound Ideas, GLASS, SMASH - GLASS BREAKING 04
Sound Effects Used (Mighty Joe Jupiter sub-game)