House of the Dragon Trailer - The Loop
Play Sound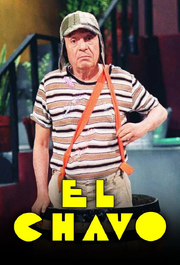 El Chavo (also known as El Chavo del Ocho during its earliest episodes) is a Mexican television sitcom created by Roberto Gómez Bolaños, produced by Televisa. It aired as an independent series on February 26, 1973 and finalized January 7, 1980. The series gained enormous popularity in Hispanic America, Brazil, Spain and other countries. The series theme song is "The Elephant Never Forgets" by Jean-Jacques Perrey, based on Ludwig van Beethoven's Turkish March Op. 113.
The show follows the adventures and tribulations of the title character—a poor orphan nicknamed "El Chavo" (which means "The Kid"), played by the show's creator, Roberto Gómez Bolaños "Chespirito"—and his friends, which often cause conflict, of a comedic nature, between the other inhabitants of a fictional low-income housing complex, or, as called in Mexico, vecindad. The idea for the show emerged from a sketch created by Gómez Bolaños where an 8-year-old boy competed with a balloon vendor in a park, said sketch aired for the first time on April 27, 1972. The show centered great importance into the development of the characters, which were each assigned a distinctive personality. Since the beginning, Gómez Bolaños decided that El Chavo would be directed toward an adult audience, even though the show itself was about adults interpreting kids. The main cast consisted of Gómez Bolaños, Ramón Valdés, Carlos Villagrán, María Antonieta de las Nieves, Florinda Meza, Rubén Aguirre, Angelines Fernández and Édgar Vivar, who interpreted El Chavo, Don Ramón, Quico, Chilindrina, Doña Florinda, Profesor Jirafales, Doña Clotilde and Señor Barriga. Direction and production of the series fell on Gómez Bolaños, Enrique Segoviano and Carmen Ochoa.
El Chavo first appeared in 1972 as a sketch in the Chespirito show which was produced by Televisión Independiente de México (TIM). In 1973, following the merger of TIM and Telesistema Mexicano, it was produced by Televisa and became a weekly half-hour series, which ran until 1980. After that year, shorts continued to be shown in Chespirito until 1992. At its peak of popularity during the mid-1970s, it had a Latin American audience of over 350 million viewers per episode. Given the popularity of the show, the cast went on a global tour to countries in which the show already aired and, in a series of presentations, the cast would dance and act in front of the public.
The Brazilian Portuguese dub, Chaves, has been inferred by Brazilian TV Network SBT since 1984, was also seen on the Brazilian versions of Cartoon Network and Boomerang, and currently is also seen on Multishow. Since 2 May 2011, it has aired in the United States on the UniMás network. It previously aired on sister network Univision and its predecessor, the Spanish International Network. It spawned an animated series titled El Chavo Animado.
El Chavo continues to be popular with syndicated episodes averaging 91 million daily viewers in all of the markets where it is distributed in the Americas. Since it ceased production in 1992, it has earned an estimated US$1.7 billion in syndication fees alone for Televisa.
El Chavo was also available on Netflix in the United States, but was removed in December 31, 2019.
Summary
Also See
Chespirito (TV Series)

El Chapulín Colorado

El Chanfle (1979)

El Chanfle 2 (1982)

El Chavo Kart

El Chapulín Colorado (2015 TV Series)
Sound Effects Used
Image Gallery
Audio Samples
External Links