We're Getting Mutants in the MCU - The Loop
Play Sound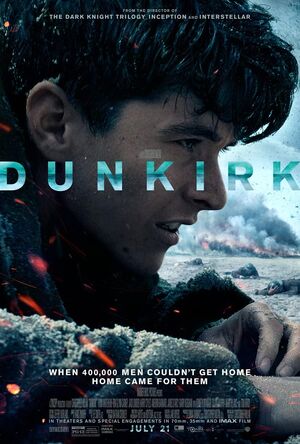 Dunkirk is a 2017 war film written, directed, and produced by Christopher Nolan that depicts the Dunkirk evacuation of World War II. Its ensemble cast includes Fionn Whitehead, Tom Glynn-Carney, Jack Lowden, Harry Styles, Aneurin Barnard, James D'Arcy, Barry Keoghan, Kenneth Branagh, Cillian Murphy, Mark Rylance, and Tom Hardy. The film was distributed by Warner Bros.
Dunkirk portrays the evacuation from three perspectives: land, sea, and air. It has little dialogue, as Nolan sought instead to create suspense from cinematography and music. Filming began in May 2016 in Dunkirk and ended that September in Los Angeles, when post-production began. Cinematographer Hoyte van Hoytema shot the film on IMAX 65 mm and 65 mm large-format film stock. Dunkirk has extensive practical effects, and employed thousands of extras as well as historic boats from the evacuation, and period aeroplanes.
The film premiered on 13 July 2017 at Odeon Leicester Square in London, and was released in the United Kingdom and United States on 21 July in IMAX, 70 mm, and 35 mm film formats. It is the highest-grossing World War II film, making $526 million worldwide. Dunkirk received praise for its screenplay, direction, musical score, sound effects, and cinematography; some critics called it Nolan's best work, and one of the greatest war films.
The film received eight nominations at the 23rd Critics' Choice Awards, winning for Best Editing, eight at the 71st BAFTAs, winning for Best Sound, and three at the 75th Golden Globe Awards. At the 90th Academy Awards, it received eight nominations, including Best Picture and Best Director (Nolan's first Oscar nomination for directing); it went on to win for Best Sound Editing, Best Sound Mixing, and Best Film Editing.
Storyline
May/June 1940. Four hundred thousand British and French soldiers are hole up in the French port town of Dunkirk. The only way out is via sea, and the Germans have air superiority, bombing the British soldiers and ships without much opposition. The situation looks dire and, in desperation, Britain sends civilian boats in addition to its hard-pressed Navy to try to evacuate the beleaguered forces. This is that story, seen through the eyes of a soldier amongst those trapped forces, two Royal Air Force fighter pilots, and a group of civilians on their boat, part of the evacuation fleet.
Sound Effects Used
Image Gallery
Audio Samples