We're Getting Mutants in the MCU - The Loop
Play Sound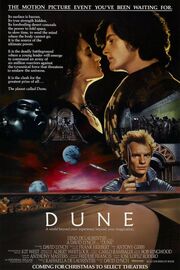 Dune is a 1984 American epic science fiction film written and directed by David Lynch and based on the 1965 Frank Herbert novel of the same name. The film stars Kyle MacLachlan (in his film debut) as young nobleman Paul Atreides, and includes an ensemble of well-known American and European actors in supporting roles. It was filmed at the Churubusco Studios in Mexico City and included a soundtrack by the rock band Toto, as well as Brian Eno.
Set in the distant future, the film chronicles the conflict between rival noble families as they battle for control of the extremely harsh desert planet Arrakis, also known as "Dune". The planet is the only source of the drug melange—also called "the spice"—which allows prescience and is vital to space travel, making it the most essential and valuable commodity in the universe. Paul Atreides is the scion and heir of a powerful noble family, whose inheritance of control over Arrakis brings them into conflict with its former overlords, House Harkonnen. Paul is also a candidate for the Kwisatz Haderach, a messianic figure in the Bene Gesserit religion. Besides MacLachlan, the film features a large ensemble cast of supporting actors, including Patrick Stewart, Brad Dourif, Dean Stockwell, Virginia Madsen, José Ferrer, Sting, Linda Hunt, and Max von Sydow, among others.
After the novel's initial success, attempts to adapt Dune as a film began in 1971. A lengthy process of development followed throughout the 1970s, during which Arthur P. Jacobs, Alejandro Jodorowsky, and Ridley Scott unsuccessfully tried to bring their visions to the screen. In 1981, executive producer Dino De Laurentiis hired Lynch as director.
The film was a box-office failure, grossing $30.9 million from a $40 million budget, and was negatively reviewed by critics, which heavily criticized the screenwriting, lack of faith to the material source, the pacing, direction and editing although the visual effects, musical score, acting and action sequences were praised. Upon release, Lynch disowned the final film, stating that pressure from both producers and financiers restrained his artistic control and denied him final cut privilege. At least three versions have been released worldwide. In some cuts, Lynch's name is replaced in the credits with the name Alan Smithee, a pseudonym used by directors who wish not to be associated with a film for which they would normally be credited. The extended and television versions additionally credit writer Lynch as Judas Booth. The film has developed a cult following over time, but opinion varies among fans of the novel and fans of Lynch's films.
Storyline
Also See
Dune (1984) (Trailers)

Dune (1984) (TV Spots)
Movie Trailer
Sound Effects Used
Image Gallery
Audio Samples
External Links