Wiki Targeted (Entertainment)
Play Sound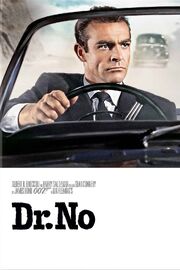 Dr. No is a 1962 spy film based on the 1958 novel of the same name by Ian Fleming. Starring Sean Connery, Ursula Andress, Joseph Wiseman, and Jack Lord, it is the first film in the James Bond series, and was adapted by Richard Maibaum, Johanna Harwood, and Berkely Mather, and directed by Terence Young. The film was produced by Harry Saltzman and Albert R. Broccoli, a partnership that continued until 1975.
In the film, James Bond is sent to Jamaica to investigate the disappearance of a fellow British agent. The trail leads him to the underground base of Dr. No, who is plotting to disrupt an early American space launch with a radio beam weapon. Although it was the first of the Bond books to be made into a film, Dr. No was not the first of Fleming's novels. Casino Royale was the debut for the character; however, the film makes a few references to threads from earlier books. This film makes reference to later books in the series as well, such as the criminal organisation SPECTRE, which was not introduced until the 1961 novel Thunderball.
Dr. No was produced on a low budget, and was a financial success. While the film received a mixed critical reaction upon release, it has gained a reputation over time as one of the series' best instalments. Dr. No also launched a genre of "secret agent" films that flourished in the 1960s. The film also spawned a comic book adaptation and soundtrack album as part of its promotion and marketing.
Many of the iconic aspects of a typical James Bond film were established in Dr. No: the film begins with an introduction to the character through the view of a gun barrel and a highly stylised main title sequence, both of which were created by Maurice Binder. It also established the iconic "James Bond" theme music. Production designer Ken Adam established an elaborate visual style that is one of the hallmarks of the film series.
Storyline
Movie Trailer
Sound Effects Used
Image Gallery
Audio Samples
External Links