We're Getting Mutants in the MCU - The Loop
Play Sound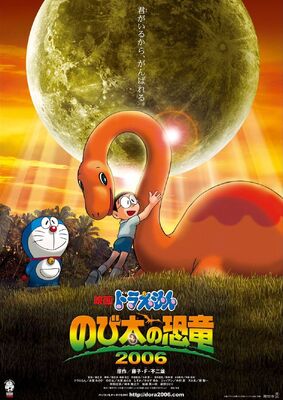 Doraemon: Nobita's Dinosaur 2006 (映画ドラえもん のび太の恐竜2006, Eiga Doraemon: Nobita no Kyōryū 2006), also known as Doraemon: The Movie 2006 and Doraemon and the Little Dinosaur, is a traditionally animated feature film which is a remake of the first, 1980, Doraemon film Doraemon: Nobita's Dinosaur.
Release Date
March 4, 2006
Storyline
Suneo shows everyone a fossilized claw of Tyrannosaurus rex and Nobita is angry that he doesn't get a look. Nobita claims that he will be able to find a living dinosaur. Panicking, Nobita researches dinosaurs and starts digging in a hill. But then, a landlord shouts at him and makes him dig a hole in the ground to dispose of some egg shells. Nobita unearths a rock shaped like an egg. Using the time-wrap, he returns the rock to its former form and plans to hatch the egg. He spends a day and night wrapped tightly in a blanket with it on his futon, despite it being the peak of summer. A plesiosaur Futabasaurus comes out, and Nobita decides to name the plesiosaur Piisuke. Suneo and Gian come looking for Nobita but because Piisuke is still too small, Nobita doesn't show them the plesiosaur and instead makes a deal with them. If he cannot show them a real dinosaur, he would have to eat spaghetti through his nose. Meanwhile, Nobita and Piisuke form a strong bond between them with Nobita working very hard to make sure the baby plesiosaur is well looked after, feeding it his own dinner of sashimi and playing with it. He grows very attached to Piisuke.
Piisuke grows too big to stay in Nobita's closet and has to be moved to a lake. Nobita continues to visit him every night, bringing him food and playing with him. However, Nobita becomes sick and can't make it one night. Doraemon tries to feed Piisuke instead but comes home saying Piisuke is gone. It turns out though that because Nobita didn't show up Piisuke came looking for him. At first Nobita is angry that Piisuke came into town but doesn't stay angry long. Doraemon takes Piisuke back to the lake once the plesiosaur sees Nobita is ok. However, the next day when Nobita goes to visit him he hears that Piisuke was seen and when he gets to the lake it's flooded with reporters. Nobita is unable to get to Piisuke without being seen and goes home.
Movie Trailer
Sound Effects Used
Image Galley
Audio Samples