Doctor Strange in The Multiverse o Madness - The Loop
Play Sound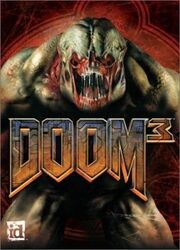 Doom 3 is a 2004 horror first-person shooter video game, developed by id Software and published by Activision. Doom 3 was originally released for Microsoft Windows on August 3, 2004, adapted for Linux later that year, and ported by Aspyr Media for Mac OS X in 2005. Developer Vicarious Visions ported the game to the Xbox, releasing it on April 3, 2005.
Doom 3 is set on Mars in 2145, where a military-industrial conglomerate has set up a scientific research facility into fields such as teleportation, biological research, and advanced weapons design. The teleportation experiments open a gateway to Hell, resulting in a catastrophic invasion of the Mars base by demons. The player character, Doomguy, an anonymous space marine, must fight through the base to stop the demons attacking Mars and reaching Earth. 
Doom 3 is the first reboot of the Doom series, ignoring the events of the previous Doom games but is stated in Doom RPG as a prequel to the first game. Doom 3 utilizes the id Tech 4 game engine, which has since been licensed out to other developers, and later released under the GNU General Public License in November 2011.
Doom 3 was a critical and commercial success; with more than 3.5 million copies of the game sold, it is the most successful game by developer id Software to date. Critics praised the game's graphics and presentation, although reviewers were divided by how close the gameplay was to that of the original Doom, focusing primarily on simply fighting through large numbers of enemy characters. The game was followed by Resurrection of Evil, an expansion pack developed by Nerve Software, in April 2005. A series of novelizations of Doom 3, written by Matthew J. Costello, debuted in February 2008. An expanded and remastered edition, titled Doom 3: BFG Edition was released in the fourth quarter of 2012, while a version based on BFG Edition of the game was released without online multiplayer, simply called Doom 3, for Android in June 2015, and Nintendo Switch, PlayStation 4, and Xbox One in July 2019.
Summary
Also See
Sound Effects Used
Image Gallery
Audio Samples
External Links