Doctor Strange in The Multiverse o Madness - The Loop
Play Sound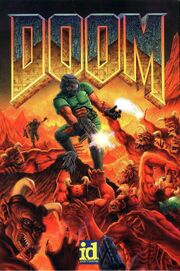 Doom is a 1993 first-person shooter (FPS) game, developed by id Software for MS-DOS.
Summary
Players assume the role of a space marine, popularly known as Doomguy, fighting their way through hordes of invading demons from Hell.
Also See
Sound Effects Used
This game mostly uses sound effects from The General Series 6000 Sound Effects Library, along with sound effects from the Series 2000 Sound Effects Library, and the Series 4000 Hollywood Sound Effects Library. Some sound effects from the Lucasfilm Sound Effects Library are also used in-game for most of the demon sounds and vocalizations. Only one sound effect from the Universal Studios Sound Effects Library is used.
Sound Ideas, ANIMAL, CREATURE - LARGE ANIMAL DEATH SCREAM (Slightly higher pitch and speed; used as the Spider Mastermind's wake up sound.)
Sound Ideas, ANIMAL, CREATURE - LARGE ANIMAL GROWL 02 (Both normal and sped up tempo variants; used when a Zombie spots the player/Doomguy, and when a Cyberdemon is killed.)
Sound Ideas, ANIMAL, CREATURE - LARGE ANIMAL ROAR 06 (Sped up in tempo; used when an Imp spots the player/Doomguy.)
Sound Ideas, ANIMAL, CREATURE - LARGE ANIMAL ROAR 13 (Sped up in tempo; used when an Imp spots the player/Doomguy.)
Sound Ideas, BATS, FRUIT - 8 SHORT SQUAWKS, ANIMAL (2nd squawk only, very low pitch and speed; used as the sound a Lost Soul makes when it attacks the player/Doomguy.)
Sound Ideas, BEAR - BLACK BEAR CUB, MOANS, PURRS, ANIMAL (5th moan only, very low pitch and speed; used when a Baron is killed.) (?)
Sound Ideas, CANNON - BLACK POWDER CANNON: SINGLE BLAST 01 (Used for when the Super Shotgun is being fired.)
Sound Ideas, CAMEL - VOCALIZATIONS, ANIMAL (1st, 2nd, 5th, and 13th sounds only; used as the Zombie's and Imp's death sounds.)
Sound Ideas, CAT, COUGAR - C.U. SNARL, GROWL, ANIMAL (4th and 5th snarls only; used when a Pinky is killed.)
Sound Ideas, CAT, DOMESTIC - 8 ANGRY SNARLS & HISSES, ANIMAL (Last half of 5th snarl only, low speed and pitch; used when a Zombie spots the player/Doomguy.)
Sound Ideas, CAT, JAGUAR - BABY, C.U. SNORTS & WAILS, ANIMAL (Last half only, sped up in tempo; used when an Imp is walking around.)
Sound Ideas, CAT, LEOPARD - CLOUDED, NAY, HISS, LUNGE, GROWLS, ANIMAL (1st sound only, sped up in tempo; used for when a Zombie is walking around.)
Sound Ideas, CAT, TIGER - GROWLS, C.U. GROWLS, SNARLS, ROARS, ANIMAL (First roar only, sped up in tempo; used when a Pinky spots the player/Doomguy.)
Sound Ideas, CARTOON, GROAN - MALE, STRESS, HUMAN, HORROR (Used as Doomguy's grunt.)
Sound Ideas, CHAINSAW - HARD TO START, START, RUN, LOGGING (Used as the idling sound of the Chainsaw.)
Sound Ideas, CHAINSAW - START, CUT, STOP, LOGGING 01 (Both normal and reversed variants; used as the sounds of the Chainsaw when in use.)
Sound Ideas, ELECTRONIC - MAGICAL SWISH 01 (Used when an Imp throws a projectile.)
Sound Ideas, ELECTRONIC - MAGICAL SWISH 03 (Used for when the Rocket Launcher is being fired.)
Sound Ideas, EXPLOSION - LARGE EXPLOSION 06 (Series 6000) (Edited variant; heard when the Shotgun is being fired.)
Sound Ideas, EXPLOSION - LARGE EXPLOSION 07 (Used for when an explosion goes off, when the Spider Mastermind is killed/defeated, or when a Cyberdemon is killed.)
Sound Ideas, GONG - LARGE: SINGLE HIT, MUSIC, PERCUSSION 01 (Edited variant; used when the player picks up a powerup.)
Sound Ideas, GUN, HAND GUN - 44 MAGNUM: SINGLE SHOT 01 (Used for when the Pistol is being fired.)
Sound Ideas, GUN, RIFLE - BOLT ACTION RIFLE: PUSH BOLT (Used for when the Super Shotgun is being reloaded.)

Sound Ideas, GUN, SHOT GUN - 12 GAUGE: PUMP ACTION 01

(Sped up in tempo; heard when the Shotgun is being reloaded, picking up a weapon, or when entering a new level.)
Sound Ideas, HUMAN, GROAN - GROAN AND GRUNT: MALE 01 (Used as Doomguy's grunt when he get's injured.)
Sound Ideas, INDUSTRY, PUNCHER - AUTO PLANT PUNCH PRESS: RUNNING, FACTORY 01 (Both normal and higher pitched variants; used as the sounds of the mechanical legs on an Arachnotron.)
Sound Ideas, JAGUAR - TWO JAGUARS, ANGRY, ANIMAL, CAT (Used for when a Hell Knight is killed.)
Sound Ideas, PUNCH, BODY - PUNCH IMPACT, HUMAN 05 (Used as the impact sound for when Doomguy punches something.)
Sound Ideas, PUNCH, BODY - PUNCH IMPACT, HUMAN 06 (Very low pitch and speed; used as the footstep sound on a Cyberdemon.)
Sound Ideas, RIP, FABRIC - HEAVY COTTON, LONG TEAR (Used when an Imp attacks the player/Doomguy.)
Sound Ideas, SCREAM - MALE, LONG, HUMAN, HORROR 01 (Used as Doomguy's death scream.) (?)
Sound Ideas, SCREAM - MALE, LONG, HUMAN, HORROR 02 (1st half only/, shortened/cut off, slow pitch and speed; used for when a Zombie is in pain/injured.)
Sound Ideas, SCREAM - MALE, LONG, HUMAN, HORROR 03 (Used as Doomguy's death scream, when you have less than 50% health.)
Sound Ideas, SCREAM - MALE, SHORT, HUMAN, HORROR (Very low pitch; used as one of a Zombie's death sounds.)
Sound Ideas, SCREAM - MALE, TERROR, HUMAN, HORROR (Last half only, very low pitch; used as the moaning sound a Pinky makes when it is in pain/injured.)
Sound Ideas, SKATES, IN LINE - IN LINE SKATES: STOP, ROLLER BLADES, SPORTS (Used when a Cacodemon is killed.)
Sound Ideas, SPACE - WARBLING, ELECTRONIC (Used when using a teleporter.)
Sound Ideas, SPACE, DOOR - SPACE SHIP DOOR 2, SCI FI (Used when a lift starts and stops.)
Sound Ideas, SPACE, GUN SHOTS - LASER GUN SHOT, LARGE, GALACTIC (Used for when the BFG is being fired.)
Sound Ideas, SPACE, MOTOR - SPACE MOTOR, MALFUNCTIONING (Used for when a door is being opened or closed.)
Sound Ideas, SPACE, SHIP - VIPER FIGHTER: PEEL OFF (Used as the explosion sound for a BFG plasma projectile.)
Image Gallery
Audio Samples